Note: This is part two of a two-part story. If you're new to the story, please read Part One: Driving to the Arctic Ocean first.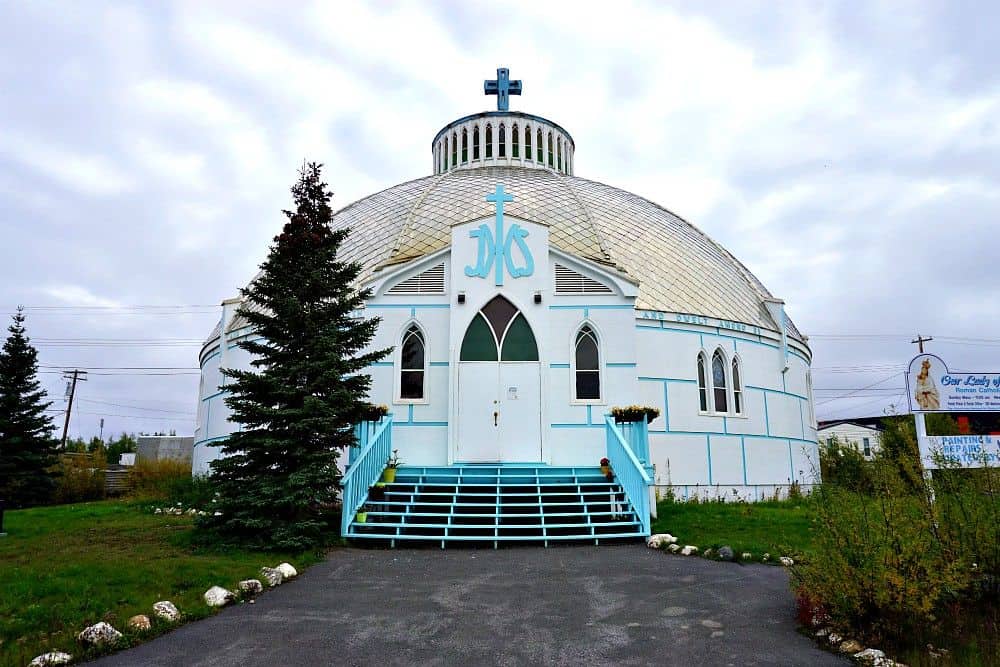 Exploring Inuvik, NWT
After a night in Eagle Plains, we drove more, and more, and more before taking a ferry across the Mackenzie Delta to Fort McPherson where we stopped for gas. By now, the scenery was getting to be slightly more flat, although we still found trees along the way. Eventually, maybe 4-5 hours later, we arrived in Inuvik, the biggest town in the Arctic. Here, we found amazing accommodation at the Mackenzie Hotel and were able to enjoy some really good food such as fish tacos at Alestine's, an eclectic local restaurant where the kitchen is inside a yellow school bus. We love finding local restaurants like this but it's certainly no secret. Aside from Alestine's, we still used our camp stove to cook many other meals as there wasn't a huge selection in the area and the grocery store prices were quite insane. A single Gatorade was $7! I really don't know how people can survive with these prices but I suppose that's why hunting and fishing are still so popular.
During our time in Inuvik, we met with city officials, toured the famous local greenhouse built in an abandoned hockey arena, visited the famous igloo church, and jumped on a boat to go up some of the narrow rivers that create the MacKenzie Delta, stopping to see wildlife such as beavers, eagles, and swans. It was a beautiful experience. We also met up with the construction crew that would be accompanying us on the not-yet-opened MacKenzie Valley highway to Tuktoyaktuk. Unfortunately, it had been raining and so the road was soft. Remember, this isn't a paved highway. Due to them not wanting us to get stuck up north and not wanting us to cause deep rivets in their new highway, what was supposed to be a three-day stay in Tuktoyaktuk became a four-hour stopover. They wanted us to come back the same day. This was really disappointing but at the same time, we couldn't afford to get stuck there either, especially with all the activities we had scheduled during our 150-day road trip across Canada.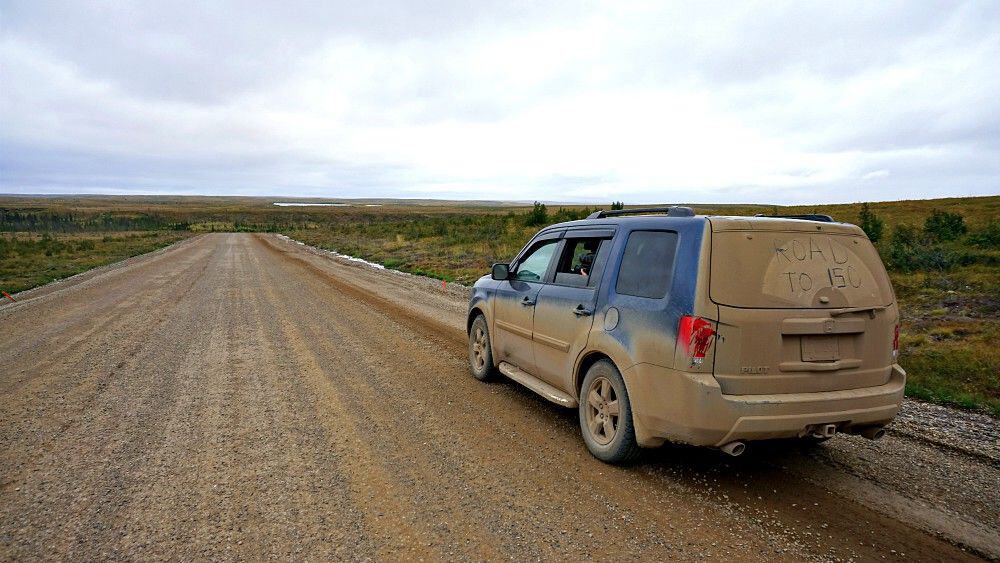 Driving to the Arctic Ocean
Finally, the day had arrived. It was time to drive the new highway to Canada's Arctic. We met up with the construction crew that would be guiding us and began the journey. The highway is actually not all that long. It's around 130 km and takes maybe two hours to make it to Tuktoyaktuk. Unfortunately for us, it was quite wet and cloudy, which not only lengthened the trip but also provided us with zero scenic views. The landscapes this far north are also quite different. It's all tundra and so it's primarily flat with small bushes here and there. The road was quite soft in some areas but with all the driving skills I've learned over the last 20 years, it was a piece of cake. In some areas, the road was so soft that bigger trucks had created deep rivets, which I had to creatively avoid. Other than that, it really wasn't anything too exciting. The real beauty of it all was arriving at the secluded Arctic fishing village of Tuktoyaktuk.
Not many people make it this far north and up until now, it was only accessible by plane or boat. Yet, here I was, just a small town boy from Alberta, driving into Tuktoyaktuk on a road not yet open to the public. Since we only had a few hours to enjoy the town, we got in contact with some people, such as Joanne from Joanne's Taxi (jsteen@netkaster.ca), who could help give us the best experience possible in such a short amount of time.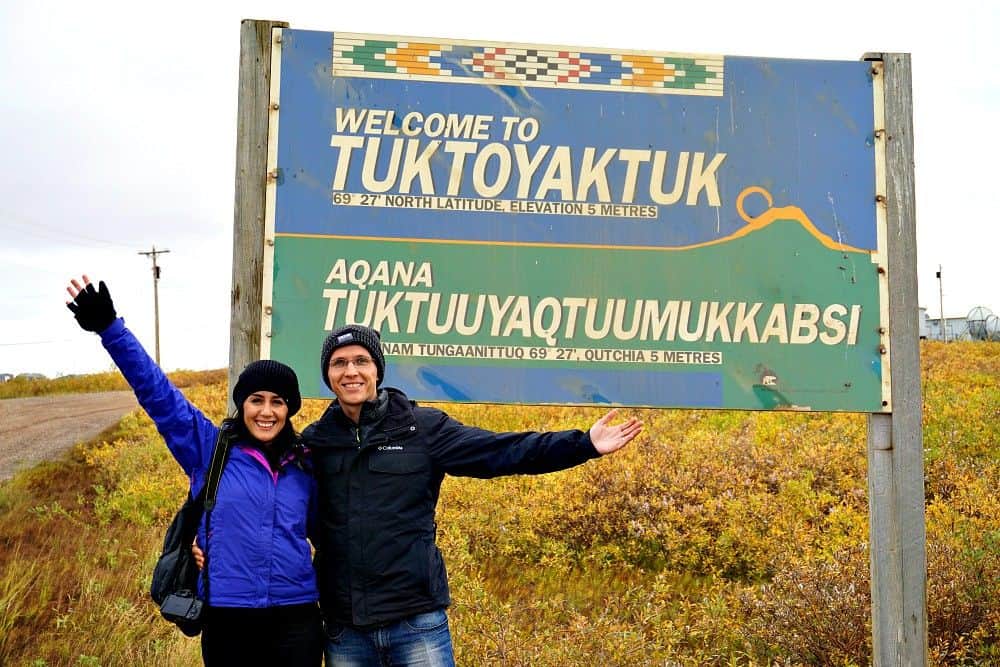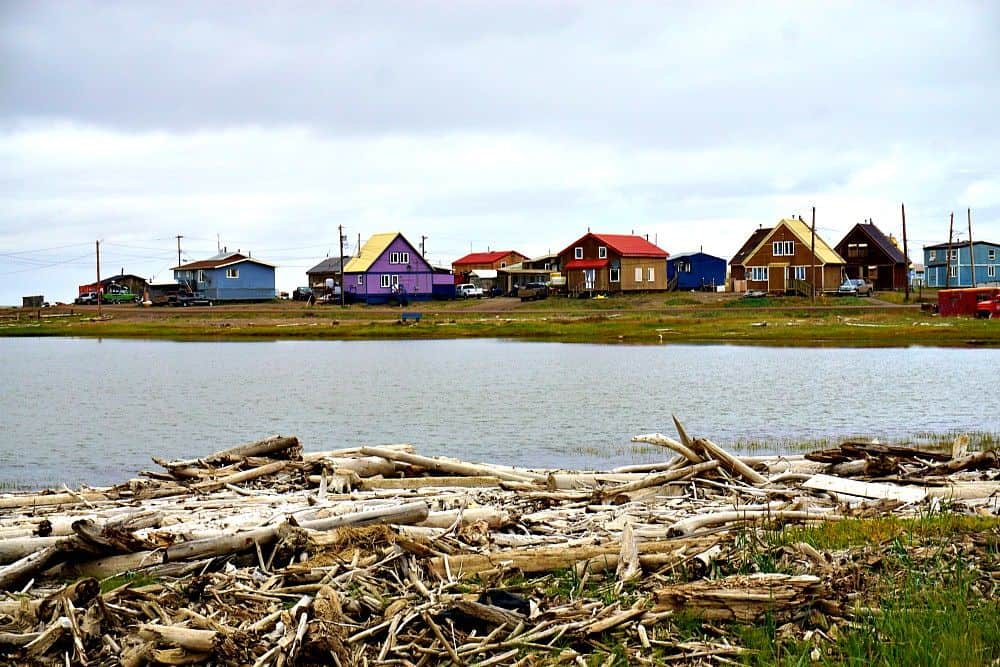 Experiencing Tuktoyaktuk
There's not all that much to Tuktoyaktuk. After all, the population is only around 900. Yet, it's a fascinating place and so different from the rest of Canada. Houses, for example, in Tuktoyaktuk, and in Inuvik are built on stilts to avoid damage from the permafrost. Permafrost is ground (rock, soil, etc) that remains at or below the freezing point of water for two or more years. If homes were built as they are down south, they would basically be ruined when that permafrost begins to melt. We were hoping to go down into the permafrost via a big natural fridge that people have been using for generations, but it's been closed to the public.
As for food and accommodation, you certainly won't find any Michelin-star restaurants or big name hotels but you will find friendly people willing to introduce you to their unique culture. We teamed up with a local tour guide and jumped on their short tour of the area. After bringing us to the Welcome Sign, they took us to a small Pingo, which we climbed for views of the area. Pingos are unique to the area and are a protected National Landmark. A pingo is a mound of earth-covered ice found in the Arctic and subarctic regions of the world. You can see them all over the place. Some are big, some are small, and I like to describe them as Earth's pimple. Next, we went to a locals house and got to try Muktuk (beluga whale), which was basically a thick chunk of fat and skin. We also got to try Beluga jerky. Both were quite tasty but I have to admit, I felt a bit guilty after snorkeling with Beluga whales in Churchill a few months prior. Next, we dipped our toes in the Arctic Ocean. I also stripped down to my swim trunks and threw my whole body into the ocean as part of my goal to dunk myself in all three oceans neighboring Canada. Mission accomplished! (Surprising note: the coldest ocean was the Atlantic, although that might be due to it being May and surrounded by icebergs!)
Overall, Tuktoyaktuk is an interesting place. It's so far removed from most of Canada that it's almost as exotic as a place like Easter Island. Not too much further north is the North Pole! It was cool to hear about a different way of life and It's truly unfortunate that our visit was so short. However, now that the new highway is open, perhaps we can visit again someday and spend more time getting to know the people and the culture that up until now we knew nothing about.
To learn more about Canada, visit our Canadian tourism website www.MustDoCanada.com or check out our Canada YouTube channel at YouTube.com/MustDoCanada
Have you been to the Arctic before? Would you like to go?