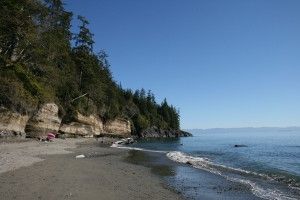 Have you ever searched around your own city or town to see what adventures you could hit up? I always seem to overlook the possibility of adventure near my own city. I realized this when I was in New Zealand last year. I was hiking some of the mountains on the south island when someone asked me where I was from. When I told them I was from Calgary, which is about 1 hour from the Rocky Mountains, they immediately asked how the hikes were and how great the skiing was. I couldn't even answer. I had never hiked the Rockies. I had lived in Calgary for about 6 years and had never hiked the rockies. I had only skied a couple times but never at one of the famous resorts. "What was I doing?" I thought to myself. I'm all the way across the world conquering countries when I haven't even conquered my own yet. I decided that as soon as I returned, I would hike at least one trail before the end of the summer and I would try the 2 famous ski resorts closest to me in the winter. I did! And since then I have been trying to experience all that Canada (especially the west coast) has to offer.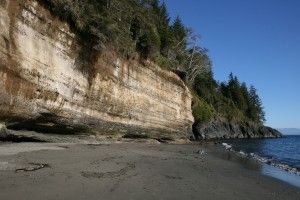 A couple weeks back I made a trip out to Vancouver Island. Living so close (1 hour by plane) you would think I would have been before considering all my travels, but nope, this was my first time.
I met up with my cousin and my girlfriend (who is from Mexico City) and we spent about 5 days (which went by way to fast) camping on Vancouver Island. I have camped many times but I always seem to forget just how beautiful it is to be out in the wilderness.
That was the first time I had camped by the Pacific Ocean in Canada. The beauty is surreal. Huge lush green rain forests and mountains. Secluded. Quiet. The first beach we camped at was called Mystic Beach. It's about a 45 minute hike from the parking area to reach the beach and then you need to scout out your perfect camping spot. We found an amazing little area behind a tree and some logs and far enough away from the shore that we weren't going to wake up in water. The tree must have had tears of joy because it kept dropping sap on me. The smell of the sap was amazing. Life becomes so much simpler when you are camping. Just sitting underneath a tree and listening to the waves and the birds makes one really appreciate life.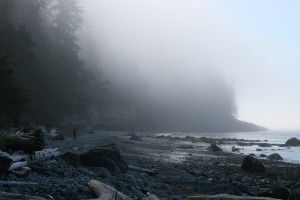 Once we had the tents set up, we took a little hike along the beach to see a beach waterfall which, although small, was captivating. Along the ridge, we could see all the formations from over the millions of years that made the cliff what it is today. After snapping some pictures, we returned to the tents and cracked open a bottle of red wine and sat on a log to watch the sunset.
The next day we camped in Pacific Rim National Park next to Tofino. A short hike away from our tents brought us to Long Beach, an absolutely amazing beach that had a mist fog in the morning and was next to an amazing lush rain forest. Far too beautiful for words to describe. With our tight schedule we didn't think we would have time to surf but we decided at the last minute that we had to experience surfing in Canada or we would be upset at ourselves later. We rushed to a local surf shop and proceeded to rent wet suits (to keep you warm) and big beginner surfboards. Now that I had the surfboard in hand, I could remember surfing in Australia and how truly happy it made me feel. We tied them to the rental car and headed for Cox Bay. By the time we arrived we only had about 2 hours so we quickly scurried to the water.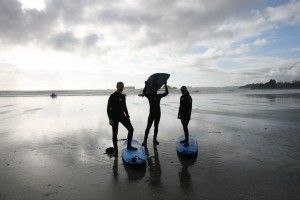 As I stepped into the cold ocean, I felt the bliss that ocean scenery brings to me. How great it makes me feel. Coasting out deeper and deeper in search of that nice wave so I can try and stand up on the board. If you haven't surfed before, it's quite difficult at first. Catching the wave is hard enough but once you catch one the really difficult part is standing up. The beginner boards make it a lot easier and I did manage to stand up a couple times. The feeling you get when a wave catches you and soars you in towards the beach is unreal. It's very exciting, and for me, very addicting. One of my favorite parts is actually waiting until the sun begins to set so I can just hold on to the surfboard while looking out towards the landscape. It's extremely beautiful and provided me with a mental image I will remember for the rest of my life.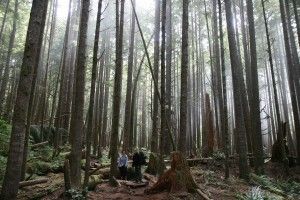 After 2 hours, the rest of the gang is tired, hurt, and ready to go. As usual, I am not ready and continue to press time as I hope for a big wave to allow me to stand up once more. I stayed out in the water for 8 hours in Australia. Finally, as I can tell our time is running completely out, I give one last look to the starting sunset and make my way towards shore.
Try to think of activities you enjoy best. Whether it's surfing, hiking, biking, or camping, check what is offered in your local area or not too far from your home. Sometimes you will be surprised at what you are missing just around the corner. 🙂
___________
If you enjoy this post, please subscribe in the orange box to the right. This way I can send you an email when I update the blog (usually every saturday) and also when I create things and offer freebies. It's inspiring to know people enjoy the read so feel free to comment below as I reply to all of them