We had just crossed the border into Ecuador after an amazing two weeks in Colombia, making a stop in the ethnic village of Otavalo for a night before going to Quito. Our plan was to relax in Quito for five days before flying to the Galapagos for a week-long scuba diving trip.
That didn't happen. Instead, I accidentally stumbled upon a company called The Biking Dutchman, who just so happened to be ranked as a top 100 activity in South America due to their amazing mountain biking trips around the country. With a love for volcanoes, I knew this would be a great opportunity to see as many of them as possible in such a short amount of time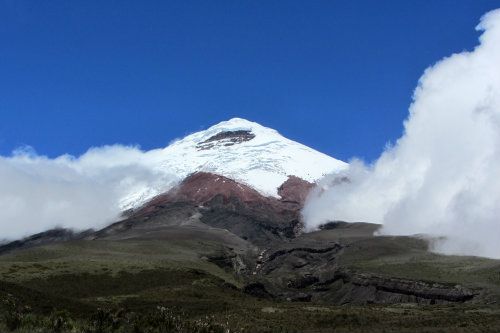 After a quick email, we had booked ourselves in and would no longer have any relaxation time whatsoever. Sigh. Then again, it was tough to complain knowing I had VOLCANOES coming up! After spending just one short night in Quito, we woke early the next morning and jumped into the back of the Biking Dutchman jeep and headed off for our first day at Cotopaxi volcano.
Cotopaxi is incredible. Just two hours from Quito, it's exactly what you would expect from a volcano. Sharp cone-like structure, red lava stains from past eruptions and a snow-capped peak to top it all off. It also provided a popular slope for mountain-bikers to cruise down, which is what we did for our first activity. The air was cold, crisp and windy and it wasn't long before I had flipped myself over the handlebars. Almost everyone in our group fell at least once, thanks to the loose lava rocks and the steep decline. I got right back up though, marveled at the views, kept my hands on the brakes and continued on down to the bottom at a much slower pace then I had tried at the beginning.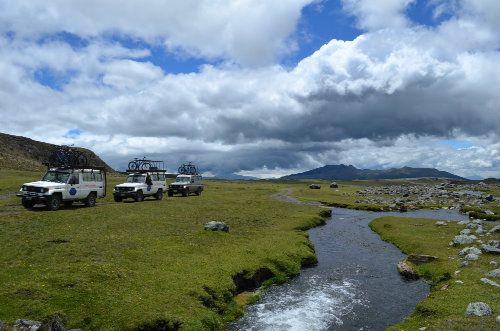 Once we reached the end of the biking trail, we jumped back into the jeeps and rode off into the volcanic countryside for a delicious picnic. The views surrounding our lunch and us were outstanding. Cold river streams snaked their way around grassy fields where volcanic rocks had lodged themselves from past explosions.  I couldn't keep my hands off the camera.
Eventually, I had to put the camera away so that we could make our way to the next fabulous destination – Quilotoa crater. We arrived late and stayed at a nearby guesthouse where we could wake up in the morning and simply walk to the incredible lookout over the crater. Our room did have a small wood-burning oven inside it but man was it ever cold. We were quite happy to wake up in the morning and get out of there. Not just because of the cold but because of the jaw-dropping view we had waiting for us.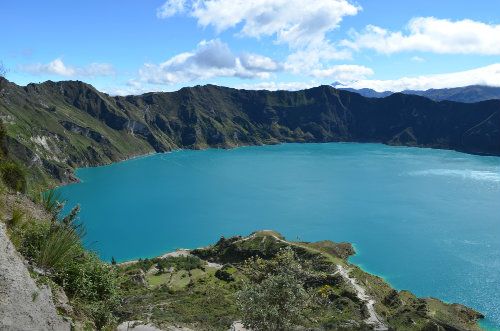 Walking to the lookout platform just a hundred meters from the guesthouse was somewhat suspenseful. I had seen pictures of the crater online and couldn't wait to experience it for myself. With the lookout platform just a few feet away, I was in anticipation of the eye candy I was about look at. Just as expected, it was outstanding. Blue sparkling water surrounded by crater cliffs and a sun shining down on to the cold water provided a view like no other. Some of the other people in our group who had never been on a trip like this before were literally screaming with joy. Most of them thought it was the most beautiful thing they had ever seen. I can't disagree – it was marvellous.
After about 15 minutes, It was time to hike down to the waters edge. Unfortunately, my wife Karla had to go back to the room and rest thanks to some sort of stomach sickness she had picked up but the rest of us walked the 45-minute trail to the bottom, where some would kayak out into the chilly water. I just sat down and took in the epic views all around me. After meandering at one of Earths masterpieces, we then opted for the easy way back up to the top and hopped on the back of mules ($10 each) and rode them back up to the lookout point where we would load ourselves back into the Jeeps and drive to our next adventure.
It turns out that the drive to Chimborazo Mountain would end up being one of the best highlights of our entire four-month South American  journey. We saw a volcano erupt! It was one of the coolest experiences of my entire life. Having the opportunity to witness nature and all of its fury right in front of my eyes was a powerful experience. The volcano made thunderous sounds as it erupted a mushroom-cloud of smoke and ash into the sky. I had seen this sort of stuff in documentaries but I never thought I would see one in real life. Then again, that's part of travels magic – You never know what you're going to experience.
We were told that the second night would be colder, as we would be sleeping at a house right next to Chimborazo mountain at an altitude of approximately 4000 metres. However, this was one of my favourite accommodations on our whole trip. It was a cozy cabin with alpine décor and a hot wood-burning oven in every room as well as the kitchen, which is where we would sit down for our most delicious meal of the journey. Adding to the experience was the owner, Rodrigo Donoso, who reminded me of the man from the Dos Equis commercials. He even rivalled him as being the most interesting man on Earth. He told us stories all night of the people he had guided up Chimborazo, including some National Geographic photographers and a filmmaker who ended up creating the documentary The Last Ice Merchant, which I can't wait to watch.
Unfortunately, we didn't see Chimborazo in the morning, despite being so close. It was far too foggy to see anything for that matter, except for the many llamas that we ended up getting our pictures with. We still drove up the mountain though and biked down through some amazing countryside. Although dogs made some of the biking uncomfortable by chasing after us in a rage, I never tired of the incredible views of the valleys below us.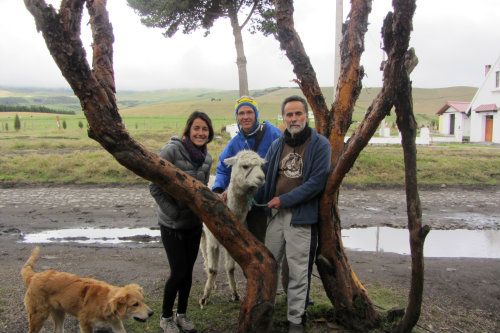 For our last night, we stayed in a beautiful hotel in the town of Baños. It felt ultra-luxurious to have a hot shower after all the cold weather we had just experienced. Baños is known for the hot springs but we thought it looked quite disgusting when we arrived in the late evening and decided to get a fabulous and much-needed massage instead.
In the morning, we checked out and rode our bikes through the Valley of Orchids. Unfortunately, it was raining and not wanting to get sick for our upcoming scuba diving adventure, we opted to stay in the Jeep for most of the journey back to Quito. That is, until we reached a waterfall, which just so-happened to have an awesome zip-line hanging over it. It took me a while to summon the courage to strap myself Superman-style to the zip-line but I'm very happy I jumped on the opportunity. I've come to love thrills while I travel and flying like a bird over a powerful waterfall is something I'll never forget. Check out the video below.
All in all, it was an incredible trip and a great way to see many beautiful volcanoes, mountains and waterfalls in such a short amount of time. It was also a good opportunity to get on a bike and feel the fresh air while taking in so many incredible views. If I do it again, I'll make sure I'm not scuba diving the next week so that I can bike in all weather conditions without having to worry about getting any sinus issues.
If you're in Ecuador and looking for something absolutely incredible to do, check out Biking Dutchman and go bike down a volcano.
What do you think? Would you bike down a volcano?
If you liked this article, you'll also like: