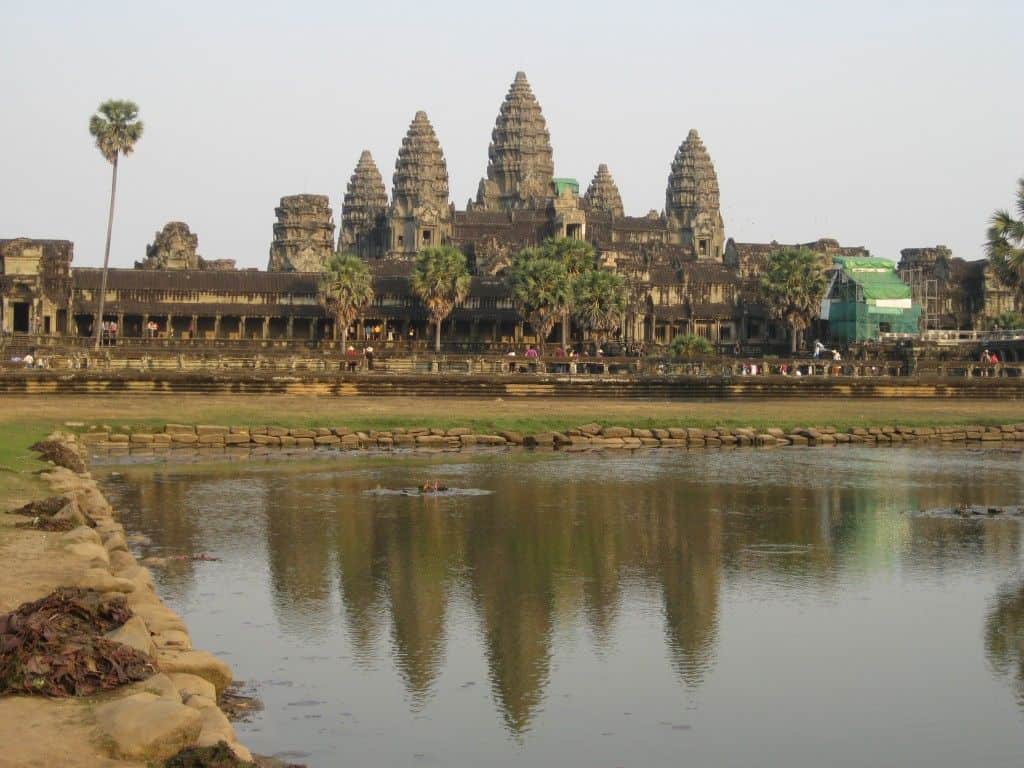 Friendly people, tuk-tuks, floating villages, ancient temples, military, and fried tarantulas are all wonderful images that come to mind when I think back to our two weeks in Cambodia.
We arrived late on January 21st after roughly 17 hours of flying from Canada to China, and finally our destination. It was dark and humid, but luckily we had already arranged a taxi through our guesthouse to pick us up at the airport. The plan was to relax for a day before planning the next couple of weeks.
After waking up, we decided on spending only one more night in Phnom Penh before heading out to Siem Reap. With a full day ahead of us, we grabbed a tuk-tuk and made way to the S-21 Genocide Museum and the gruesome Khem Rouge killing fields.
As great as it was to learn about these tragedies, it's also painful to imagine the torture three million Cambodians went through just 30+ years ago. In Hitler-esque style, Pol Pot and his Khmer Rouge gang ruthlessly murdered millions of helpless men, women, children, and even babies in just 3 short but long years. When one person was ordered to be killed, he would have the entire family murdered right down to the dog.
It's truly insane that people like this exist today and although horrible, it's great that places like the killing fields and the genocide museum exist to remind us of such hatred and cruelty. After walking through the killing fields complete with an audio guide (which is highly recommended), looking at the temples of real human skulls, and seeing bones that have been surfacing due to rainfall, we decided it was time to move on.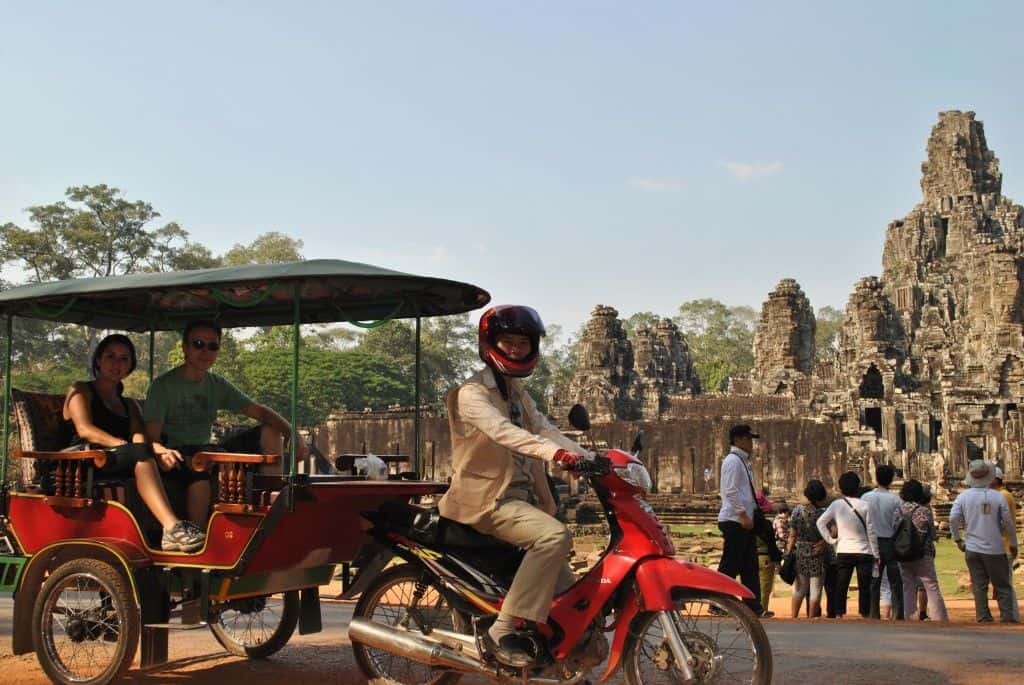 After another stop at the national museum, we booked our bus ticket to Siem Reap. Instead of booking the $7 big bus for the 6-hour journey, we got sold on the "VIP" mini-bus which gets you there in 5 hours for $11. Well, let me be the one to tell you that the mini-bus is a bad idea. First off, there is nothing VIP about it. You get a little 25 cent bottle of water and since it's a min-van, it feels more cramped than a bus. There is also no bathroom, although this is common on many buses here. The worst part is watching the road every minute unsure of when you're going to get in a head-on collision. People in Cambodia tend to drive a little crazy, swerving in and out of lanes into oncoming traffic and dodging motorbikes by just Cm's. With a bus, your more of a "king" on the road with more padding and metal to aid in a collision but in a min-van, it's going to get messy.
Anyways, our 5-hour journey turned into 11 hours because of a religious festival occurring just after Phnom Phen on the way to Siem Reap. Pilgrims, truck-loads of monks, and even elephants were walking towards one of the temples blocking the highway for everyone else. After roughly 5 hours at crawling speed, we finally hit the open now-dark highway and made way for Siem Reap.
After 5 hours of feeling my eyes glued to the windshield as I desperately prayed for not hitting oncoming traffic, we finally arrived in Siem Reap at about midnight. We had arranged for a tuk-tuk to meet us and we were at our new guesthouse within about 15 minutes.
The Bun Kao Guesthouse was welcoming and spacious with a large foyer and very friendly staff. We had booked a double room with an en-suite bathroom for 2 nights but ended up staying for 6. At $14 per night, it wasn't cheap by Siem Reap standards, but with free breakfast and some good people, we stayed put.
Siem Reap is a touristy town with a nice riverside (except for the brown water), some great restaurants, and really good fish massage parlours. $1 for a beer and 15-minutes of fish nibbling away at your dead skin is a solid deal. After a day of looking around town, we bought a 3-day Angkor pass and started our first temple day off with sunrise at Angkor Wat. The sunrise wasn't too grand considering the chaos of hundreds of people sitting around the moat with so many camera flashes going off, you'd think you were in a club dancing to a strobe light.
However, the real benefit to sunrise at Angkor Wat is when it is over and everyone goes back into town to eat breakfast. This is the only time of day to see Angkor Wat with barely a soul in sight and we took full advantage of it. Angkor Wat is of course, remarkable. Were not big into little details and deep history but the building is stunning and it's a fun atmosphere to imagine what life must have been like thousands of years ago. We walk around taking pictures and even snap one of a monk before heading out to see other temples in the area.
On our way out of Angkor Wat, we noticed some monkeys playing in trees and went closer to get a look. Little ones scurried around us chasing after each other and playing games. It was all fun and games until a bigger one approached Karla and grabbed a hold of her pink shiny water bottle. As she opened her mouth revealing her fangs, we weren't too sure if she was wanting to play or kill us, so we just walked away.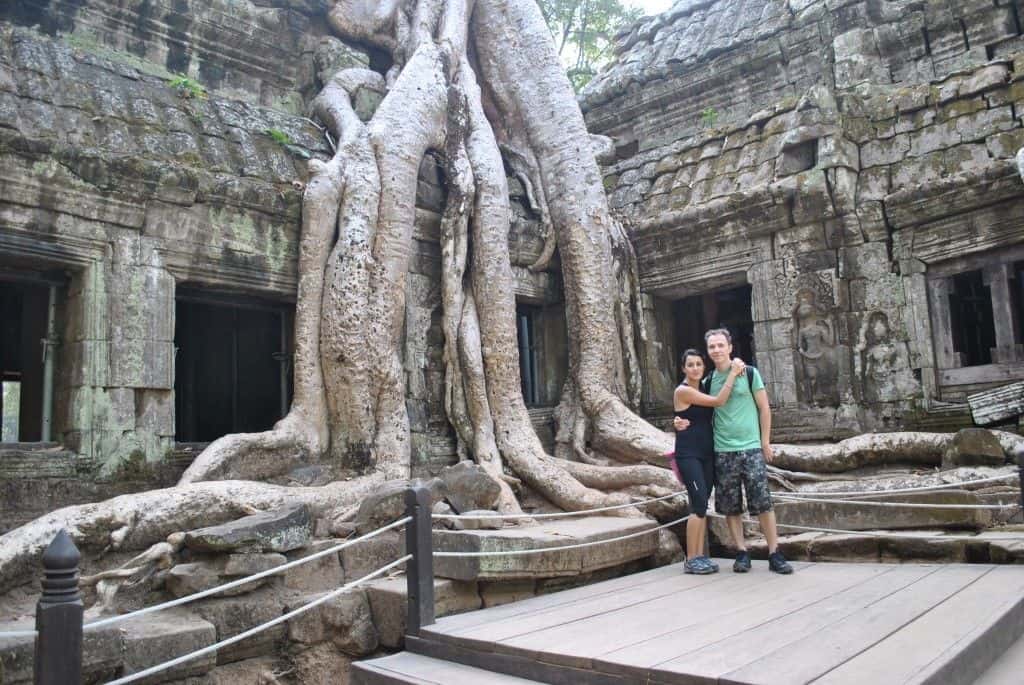 Next, we hit the roads and went to see Ta Phrom, the amazing temple that was made famous by Tomb Raider. Ta Prohm had a very magical feel to it. We walked around the outside of the temples first, taking pictures of the ancient structure while beautiful yellow leaves fell from the trees. The backdrop of the misty bird-singing jungle and the scorpion sitting on the rocks enhanced the feel of a once-remote jungle paradise. Huge trees sprung their roots throughout the temple causing massive damage to the stone walls. They grew inside, outside, and even on top of the magical structure. This really gave it that Indiana Jones "ruins" type of look.
Ta Prohm is also a photographer's dream. We snapped many incredible photos inside the temple and even ran into a Mexican television actor while trying to take the picture that National Geographic had made famous in many magazines. Afterwards, we headed back to our trusty tuk-tuk and headed to other beautiful temples in the Angkor Park area. If you ever embark on an adventure to southeast Asia, you'll find many incredibly ancient and beautiful temples.
Read More: Cambodian Military, Monkeys, and Floating Villages.