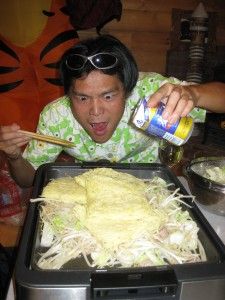 This is an interview with Mochan of the Wish Club in Japan. I met Mochan in October 2010 while travelling across Japan. I emailed him through couchsurfing.org and ended up staying with him and some other travellers for 2 nights. What made this Couchsurfing experience different from other ones was that Mochan does this full-time and sometimes hosts up to 20 people at a time. Mochan also bought a bus and started the Wish Club to help travellers experience Japan in a unique way while also building a network of amazing people all over the world. When I stayed with Mochan, he also had a guy from Spain, a woman from Vietnam, and a couple of Japanese friends staying with him and all of us quickly became friends and joined Mochan for a couple of days of fun around Japan. He brought us to temples, a sake factory, Mt.Fuji, a traditional tea ceremony, a giant robot, fish markets, picnics by a lake, and we even spent a night at a friend's cottage in Izu. I couldn't help but be amazed by the thousands of gifts and postcards that travellers have given Mochan over the years. When I arrived back in Canada, I knew I had to interview Mochan one day and see what this was all about. Here is that interview.
What inspired you to start the "Wish Club"?
I have been dreaming to organize international social gatherings since I was a kid. Maybe I was born to do the Wish Club activity.
What do you love about Couchsurfing?
Couchsurfing / Hospitality club gave me an opportunity to meet various country travellers and travellers are perfect people for my activity. They have big motivations for seeing Japanese locals and Japanese cultures and they also have difficulties for language and experiencing normal life in Japan. They need help with these things, and if we (the hosts) can help them, it means a lot to them. CS helps to make it easier for finding and creating friendly and trustable human relationships with each other. It's also a great way to travel on a budget in Japan.
When did you get started with Couchsurfing and what made you want to take it further and eventually buy a bus?
Actually, I already had a plan to buy a bus before getting to know CS. CS helped me a buy a bus earlier than I imagined.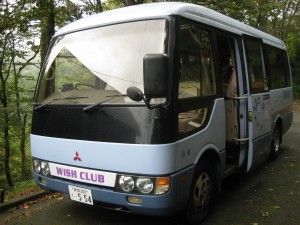 Is the "Wish club" how you make a living?
In relation to money, it isn't enough for a living. But I can survive with only Wish Club activities right now because of my savings from a previous business of mine and because my father left a small house for my family when he died. I don't need to work so hard like everyone.
I remember being in your living room looking at thousands of pictures and gifts that travellers have given you. How many people do you think you have hosted in Japan?
I'm not sure the number…maybe 600 to 700 but I don't care about the number of the people who I hosted. Quality is more important than quantity. I want to build a network of good people all over the world. Some people agree with my lifestyle and keep in touch, but not everyone. That's why I don't count the number of people. The most important thing is how many good people I can meet. The total amount of hosting people has no meaning to me.
What's one really amazing experience you remember while hosting others?
Everything! But especially when I meet people who have visited me again for a second time or people who have been recommended to join us by someone who joined us before.
How many of those same people have hosted you when you visit their home countries?
Here is the list of people who helped and hosted me when I had trips abroad until 2009. In 2010, more than 30 people helped and hosted me during my travels.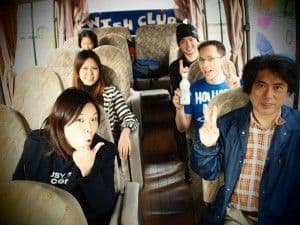 What's one huge memorable experience you had while being hosted?
My Taiwanese friend suggested that I travel to Taiwan and she planned a special trip which you can check out here. What made it really cool was that I was able to bring a french woman and an Israeli man along with me and my Taiwanese friend brought her American friend. This enabled me to organize a small Wish Club Taiwan trip! This was special because my dream and aim for the Wish Club is doing Highlight trips all over the world just like I do in Japan. The trip was kind of the first Wish Club trip outside of Japan.
Also, when I had a trip to SE Asia this January, I was able to travel with an Italian friend, and we met up with a Spanish friend in Vietnam, a Swiss friend in Cambodia and Turkish and Taiwanese friends in Thailand. My project is becoming true.
Any inspiring quotes or stories you'd like to share that have inspired you?
I am thinking of renting a house as a kind of a CS house (Wish Clubhouse) in SiemReap Cambodia this coming November and I will stay there until March at least (hopefully every Nov to March) and have SE Asia (Malaysia, Thailand and Singapore) trips regularly. I want to do this in SE Asia because I like the weather, the people, and the currency situation. I hope this project will go very well for the Wish Club.
If you're interested in meeting Mochan and joining one of his amazing adventures, check him out here.