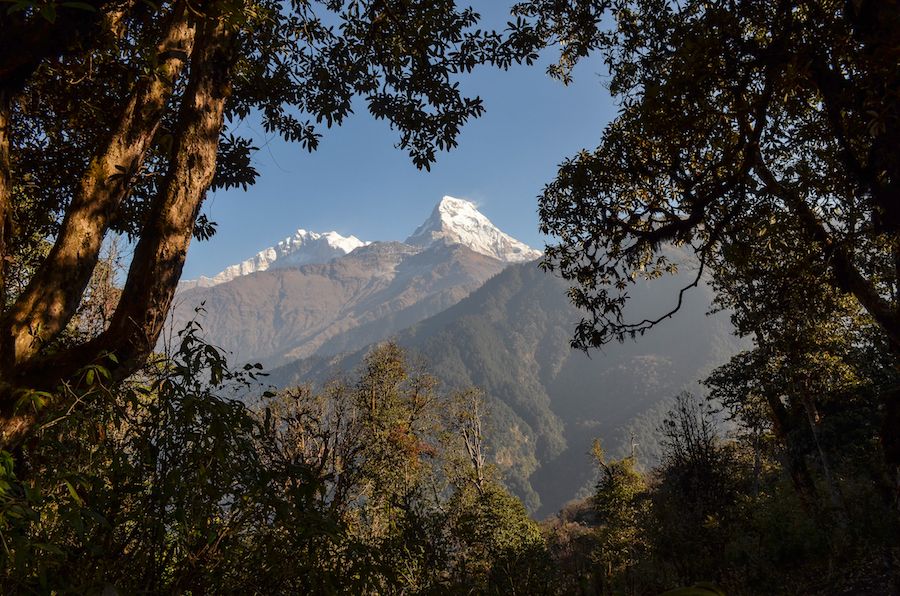 The Ultimate Guide to Nepal
Any normal person would have given up. It was like the universe was telling me not to go. Not only had Nepal experienced a devastating earthquake a few months prior but it was now dealing with a fuel crisis, which was causing heaps of problems for both locals and foreigners.
We were actually in Istanbul, Turkey (Sept 2015), and it didn't look like our plan for Nepal was going to work out. We had approximately two months before returning home and our initial plan was to visit Nepal for three weeks followed by one month in India. After all, both my wife and I had always wanted to see Nepal and during this crisis, the people could use the tourism dollars more than ever. After all, tourism was down by close to 80% thanks to the problems mentioned above.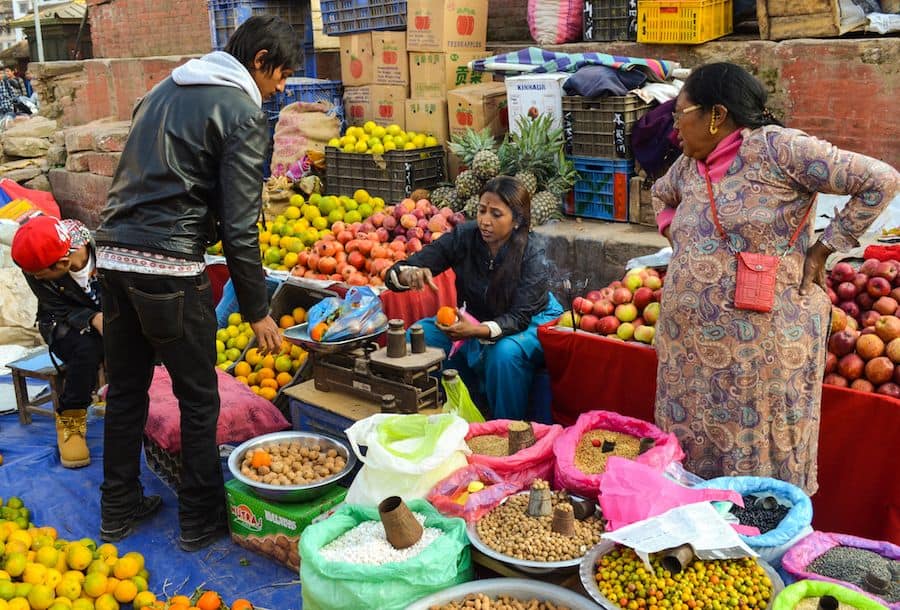 We just couldn't get a flight. For three nights, I had been trying to book through a variety of discount airlines online and none of them were accepting my credit card. I even visited local travel agents and they also couldn't get any of them to work. Then we heard news that some airlines were canceling service to Nepal due to the fuel crisis as well as more news about how difficult traveling around the country was going to be. It seemed like everything was warning us not to go. I really think the average person would have called it quits.
But we persevered. We really wanted to go. Plus, we would be there for Diwali, the festival of lights. At one point, we did start to consider other nearby destinations such as Israel and Jordon, but Nepal felt like the place to be. Then, Finally, the moment came when we were able to book a one-way flight with Emirates.
We're going to Nepal!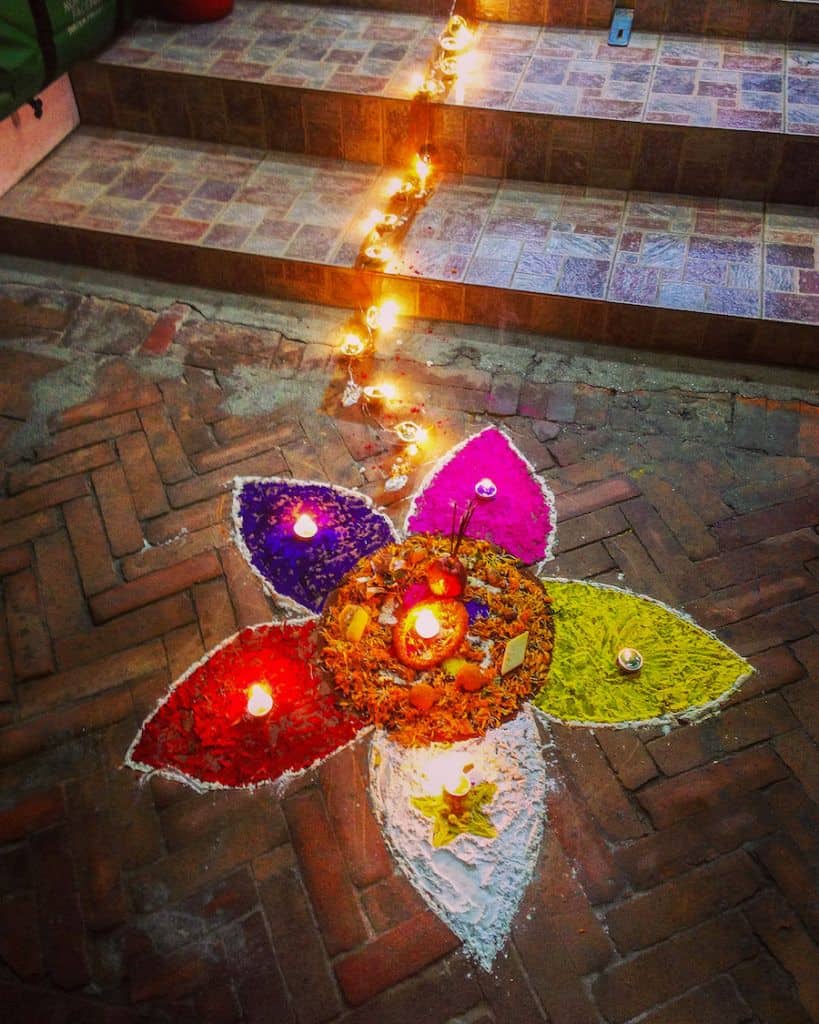 Flash forward a couple of days and we were landing in Kathmandu, Nepal where the fuel crisis was evident, even at the airport. The baggage area was pure chaos. There was no room to walk. There was luggage all over the floor, most of which had been there for days due to delayed flights. There were so many people waiting for bags that it felt like a rock concert. We had to literally squeeze through and stand on our tippie-toes hoping to see our bag somewhere. When we found our bag, we had to carry it over our heads to get through the swarm of people. Moments like this can be frusturating, especially when you've been flying for 24 hours (including a full sleepless night in an airport) but I was thoroughly enjoying it. This is why I love developing countries. It just doesnt happen anywhere else. This is what real travel is all about.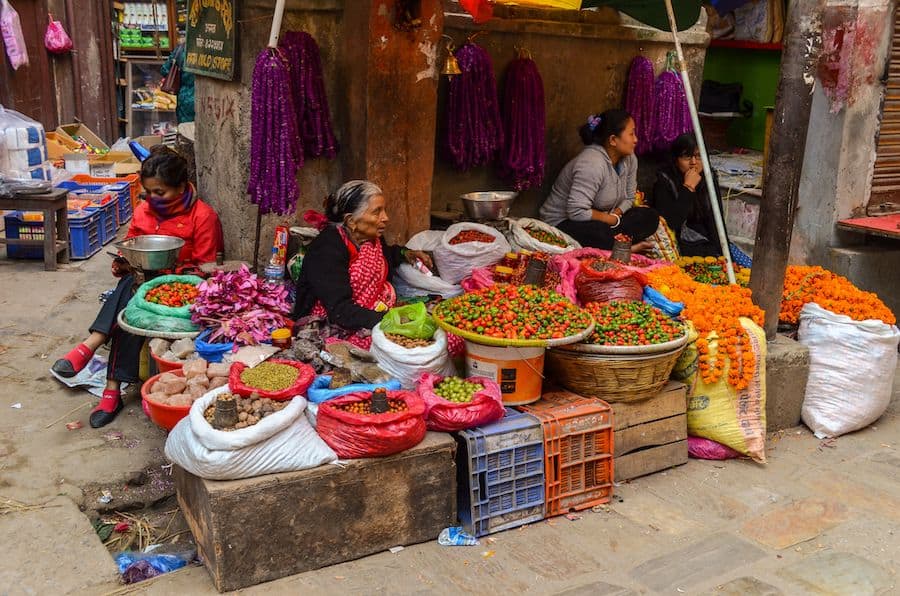 It took a couple of hours but eventually we got out of the airport and took a taxi to Epiphany Guesthouse. For those looking for a spacious, clean, and quiet guesthouse outside of the busy touristy area (but still walking distance), this is it. We had found it through a blogging campaign for #NepalNow, which was spearheaded by the guesthouse owner Sunil Sharma.
With just 17 days in the country, combined with a gruelling fuel crisis, we needed to design a good plan to see as much as we could in the short amount of time that we had. Plus, we had the Diwali festival (also known as the Tihar festival) to experience. After discussing our ideas with Sunil and others, we came up with the perfect two-week itinerary for Nepal, which combined spending time in the ancient cities, hiking near the Himalayas, and looking for Rhinos in the jungle.
If you only have a short amount of time, this is a great itinerary for two weeks in Nepal.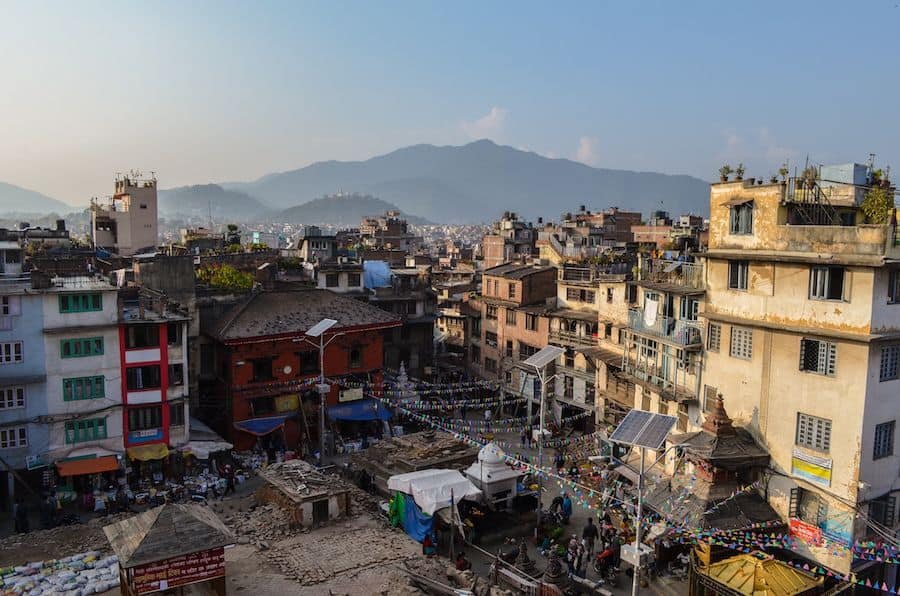 Kathmandu (2-3 days)
Kathmandu is a wonderful city full of culture, food, and congestion. We spent a lot of time there due to the festival but in general, I'd say 2-3 days is enough. (Note: When I say 2-3 days is enough, I'm talking about those short on time. Obviously, staying longer can be a unique experience to go deeper into the culture and if you have the time, Nepal is a great place to stay long term). One of my favourite areas of Kathmandu is Durbar Square, which has an array of ancient temples. Unfortunately, many of them are very damaged due to the last earthquake. Another favourite area of ours is the Boudha Stupa (not technically in Kathmandu but nearby), which was also partially damaged in the earthquake. This is one of the most sacred sites for Tibetan Buddhism and one of the largest in the world. It's also a great place to buy Tibetan singing bowls.
Where we stayed?
Epiphany Guesthouse (http://epiphanysuites.com): This guesthouse is clean, quiet, and spacious. It's also away from the super touristy area, which allows for a more local feel. I had a $2 local haircut around the corner, which was a great experience. We also had a local at-home meal with the owner, which was delicious!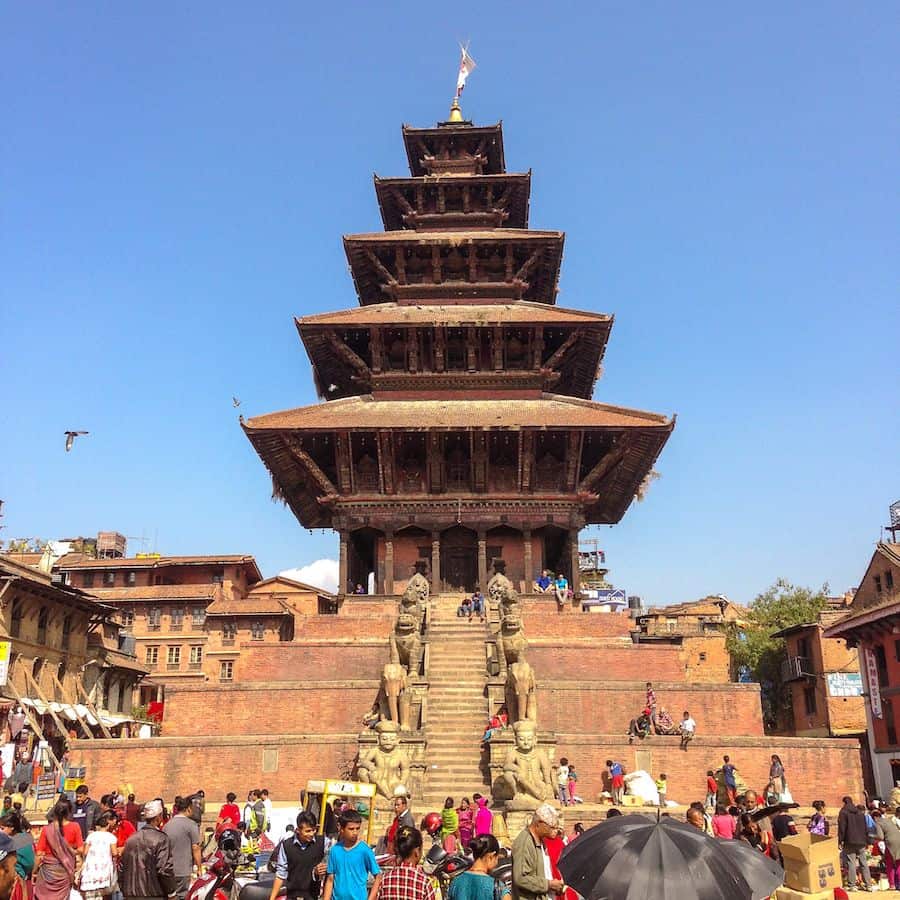 Bhaktapur (2-3 Days)
Bhaktapur is a city where you truly feel as if you've stepped back in time. Known as the "City of Culture", the city is unbelievably ancient and seems much more "intact" compared to Durbar square in Kathmandu, despite being hit hard by the earthquake. My biggest regret is not spending a couple of nights here. Due to the fuel crisis, we joined a tour to come here from Kathmandu but one day just wasn't enough. I recommend taking a bus or a shared taxi and spending some time to just soak in the vibe.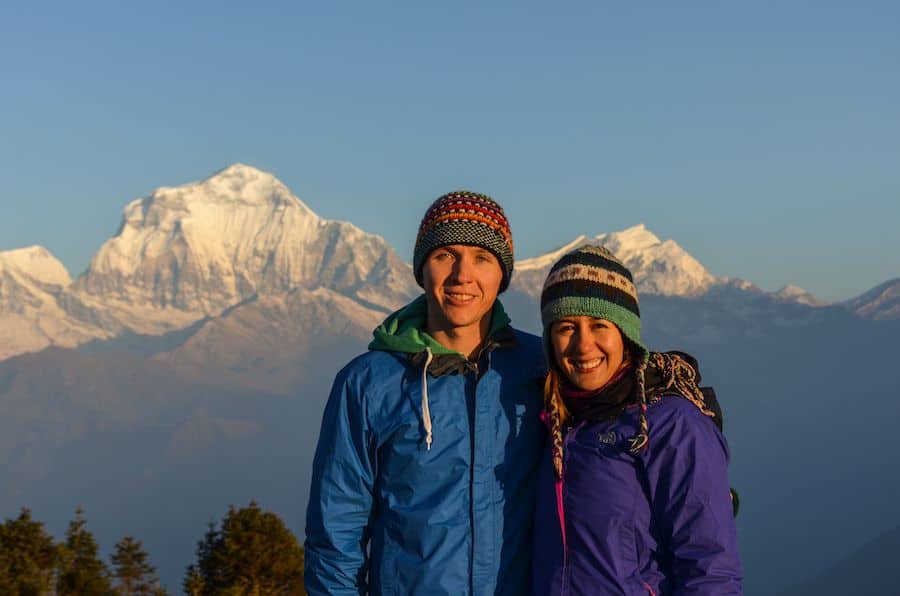 Pokhara (2-3 days)
Pokhara is the second largest city in Nepal and often the starting point for most treks to the Himalayas. Although Pokhara lacks the ancient beauty found in Bhaktapur and Kathmandu, the lakeside setting provides relief from the hustle and bustle of busy cities like Kathmandu. On a clear day, take a boat over to the Peace Pagoda for amazing views of the city. As an added bonus, go to the Old Blues Bar for live metal / rock music in a grungy environment. It's quite unique!
Where we stayed?
Butterfly Lodge (www.butterfly-lodge.org): Big, clean, and beautiful lodge with rooms ranging from standard to deluxe. They also run the Butterfly Foundation, which helps address the basic needs of deprived low-income families.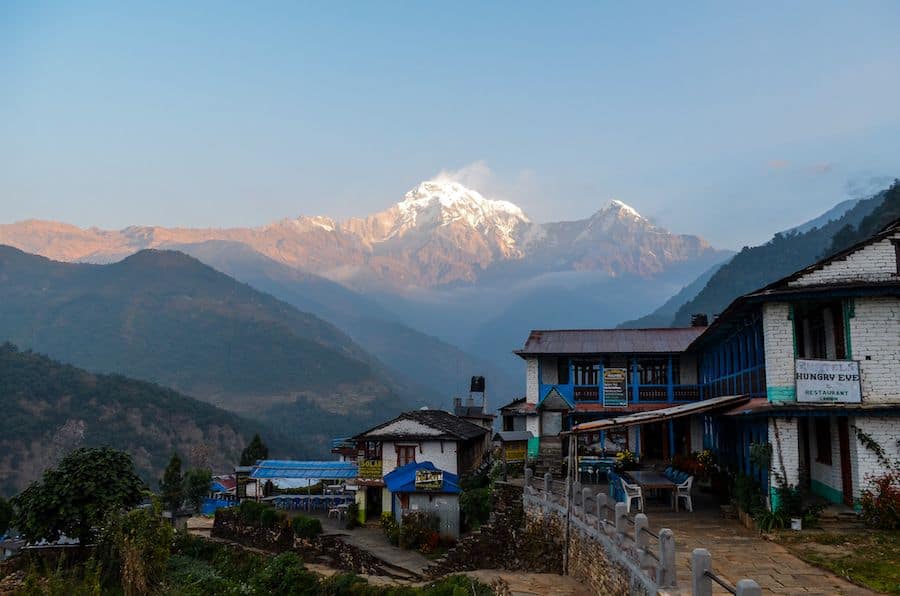 Hiking to Poon Hill (3-4 Days)
Although Poon Hill is wildly popular and busy, it's a very rewarding hike. You'll pass through many villages along the way where you can stay in tea houses and experience a slice of the rural life. You'll also get a gorgeous view of the Himalayas from the top of Poon Hill. Due to the fuel crisis and recent earthquake, we had the area almost to ourselves, which was great. Despite heavy clouds we had most days, they opened up for us at just the right time and allowed us to see one of the best landscapes we've ever seen. The hike takes about three nights but you can extend to include other areas. A guide is not necessary but we hired one anyways for $20 per day. He was good company.
Where we stayed?
Various tea houses along the way. Most charge around $5 per night. They are basic but clean. Food is often pretty good, especially after a day of hiking! This is a great way to get a taste of rural mountain life in Nepal. I miss it already!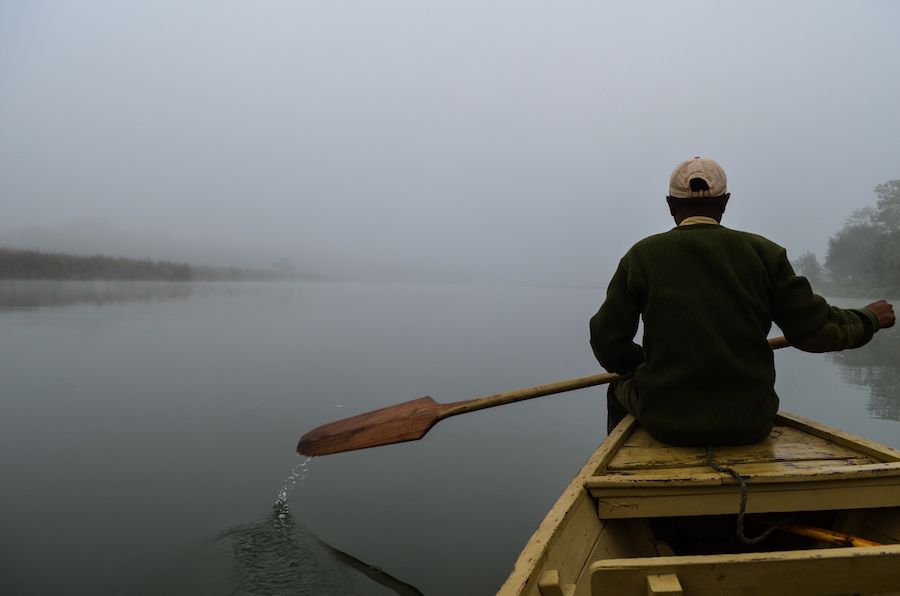 Chitwan National Park (2-3 Days)
Before visiting Nepal, I had no idea that it had a jungle. I always imagined Nepal as mountains upon mountains. In fact, Nepal is a great place to see wild Rhino's! Escape the cool weather of the mountains and head to Chitwan National Park for heat, humidity, and wild jungle tours. We were lucky and got sponsored to stay a couple of nights at Barahi Jungle Lodge, which is a beautiful luxury lodge next to the river. Our local guide brought us on a walking tour where we had a little scare with a Rhino. He also shared some incredible stories of wildlife encounters. We had a wonderful time here. (full article about Chitwan National Park coming soon).
Where we stayed?
Barahi Jungle Lodge (www.barahijunglelodge.com): This BEAUTIFUL luxury lodge is situated right next to the Rapti River. They have a huge pool with views of the jungle, exquisite food, and top-quality guides. Our stay was so memorable that we wrote a separate post about it (coming soon). If you're on a budget, there's plenty of other places as well.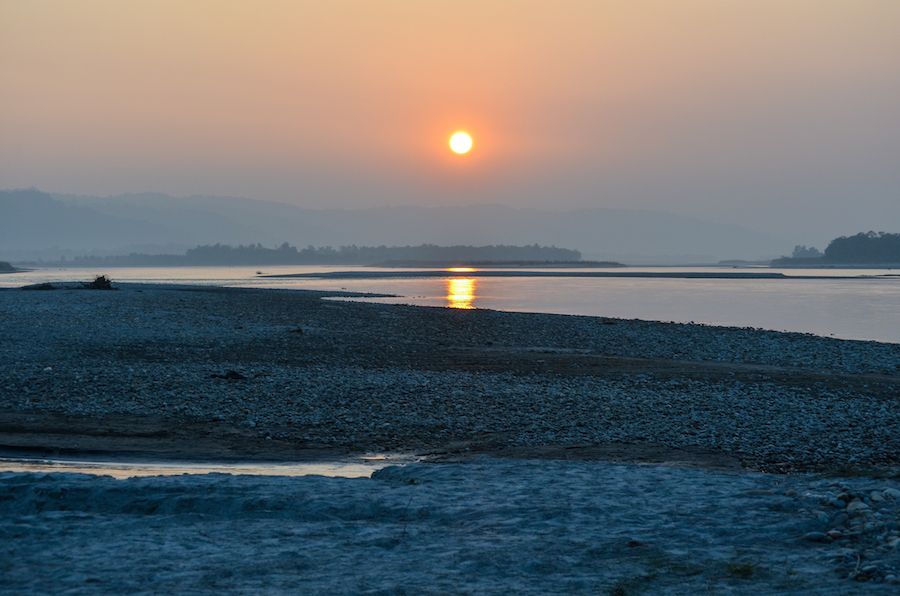 Conclusion
Nepal is one of my favourite countries and always ranks high amongst other travellers as well. The people are friendly, the culture is incredible, the landscapes are dramatic, and the food is delicious. Plus, it's cheap. What else could you want? Our highlights were hiking to Poon Hill to see the Himalayas at sunrise, witnessing the ancient temples in Kathmandu and Bhaktapur, and seeing wild Rhinos in Chitwan National Park. For budget travellers, you can EASILY get by on $25 per day or less.
Now is the time to visit Nepal!
Have you been? or is Nepal on your dream list?