In the 26th episode of the Live Limitless podcast, I chat with Nancy Marmolejo of talentandgenius.com.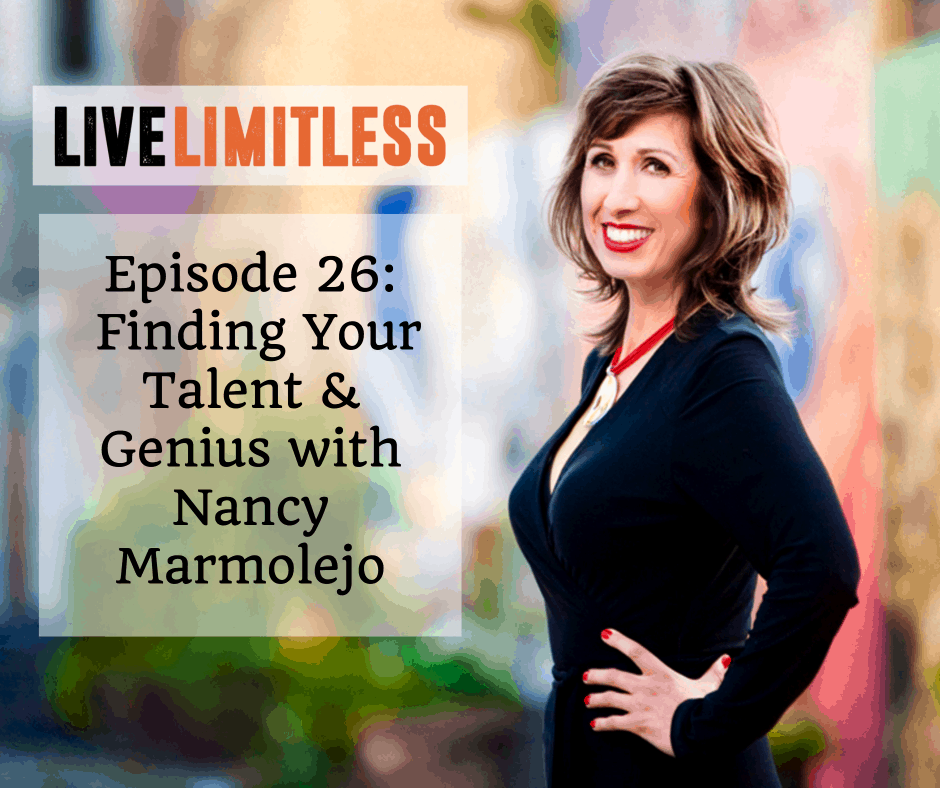 Nancy Marmolejo teaches entrepreneurs, experts, and teams how to tap into their unique genius and use it to position themselves as trusted authorities. Dubbed a "professional paradigm shifter", Nancy helps people understand all they bring to the table, especially the parts of themselves they can't see.
Since 2003, Nancy's business consulting has helped clients from around the world expand their reach and impact. As a social media influencer, she's known for her authentic and relatable style.
Nancy has won numerous awards for her business and has been featured in The Huffington Post, Smart Money, Redbook, Latina Magazine, The Orange County Register, Univision, NPR and more. She's also the host of the top-rated podcast, Itenco: Lessons For The Leading Edge.
We do something extra cool in this podcast. Instead of a typical interview where I ask Nancy all the questions, we turn this around and Nancy gives me a live "coaching call". I call these "workshop" episodes. It's like a live case study because instead of Nancy telling us about what she does, she actually shows us what she does by helping me find my genius!
If you're trying to figure out what your mission statement is, what your hidden genius is, and how to find your strengths and talents, this episode is for you!
You can learn more about Nancy at www.talentandgenius.com.
If you're listening to this episode from home, please visit her website and download the free eBook Personal Brand: reINVENTED.
In this episode, we talk about:
What inspired Nancy into the path of helping others find their unique geniuses,
Why many people never find or realize their unique talents and strengths,
How Nancy found her unique genius,
And then we go into a live coaching session where Nancy asks me about;

My creative practices,
My highest vision for myself,
What shapes my identity,
And so MUCH more…
And Remember…Even though this is a live coaching session with me, you'll be able to follow along and think about your own answers!
Listen below or download from iTunes by clicking here. (Please note: If you're reading this from email, you may need to visit the site to listen)
Podcast: Play in new window | Download
Subscribe: Apple Podcasts | Google Podcasts | Email | RSS
If you're running short on time;
03:30: What inspired Nancy into the path of helping people find their unique talents and strengths,
05:30: Why many people never find or realize their unique strengths and talents,
06:30: How long she's been helping others in this field,
07:10: How Nancy found her own unique genius,
10:40: We begin the "coaching call",
14:00: Nancy asks me about my creative practices,
20:30: Nancy asks me about my highest vision of myself,
25:00: We begin going over what shapes my identity and how you can figure out yours,
31:00: What do I stand for? (What's important to you?),
35:40: My big "why?"
43:00: What are my natural strengths?
48:00: We talk about leadership,
53:00: Why you don't need a big audience to change the world,
58:30: We begin talking about some of the next stages for developing your personal brand such as communicating your personal brand and getting known and recognized,
1:02:00: We go over the potential mission statement of Live Limitless,
1:05:55: Tips for finding your skills, strengths, and talents,
1:09:00: Tips for being more productive and developing habits,
Links from the show
Personal Brand: reINVENTED
***
Did you enjoy this interview with Nancy Marmolejo?
Please leave a review on iTunes and share with your friends. This would mean the world to me.
If you have a question for either of us, leave a message in the comments and we'll get back to you.
-Matt