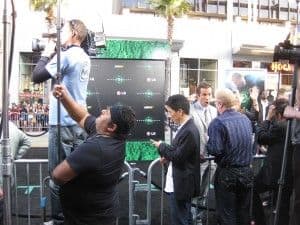 Okay, I'll be the first to say that I'm not a big believer in fate or anything like that. I don't really think we have a set-purpose in life or a time which we are scheduled to die. I am, however, constantly impressed by the timing of various events that just seem so perfect.
There are so many events that happen when the timing is absolutely perfect. I could talk about the random decision to go to another city for just 1 semester of university which led to meeting my girlfriend of 3 years. I could talk about the group I emailed to help sell some extra books I have which turned into a membership and a free trip to Japan. But since the World Domination Road Trip just ended, it seems only fitting to talk about one of the very cool "fate" type moments that happened While I was in Hollywood.
It was a a very hot wednesday afternoon and we were just finishing up a taping of the Jay Leno show where we had been in the audience. It was around 5pm and since we were already in Burbank, I decided to swing over to Hollywood to show Karla the sights. Considering it was rush hour, we parked in the first location we could find which happened to be a mall right on Hollywood boulevard. We were starving and decided to look for a restaurant immediately. We were eyeing up a pizza restaurant but not wanting to spend to much time eating (and ordering and waiting and so forth), we decided on a little crepe place that looked like it would be quick. After the meal (which was pretty damn bland), we walked out to Hollywood boulevard and noticed the street was closed off and that massive crowds were lining up for something. As we walked closer, I noticed Blake Lively (actress in the Green Lantern) who we had just watched Jay Leno interview earlier that day.
We then realized it must be a screening of the Green Lantern at Grauman's Chinese theatre. We began to look for more actors and then noticed Ryan Renolds a few feet away from us talking to reporters. Karla was excited to see all this action and of course, to see Ryan Reynolds. I was more excited to see Jason Bateman who was also there for some reason. But seriously, what a cool Hollywood experience for Karla on her first trip to the U.S.A (and for me as well). After some quick pictures, I grabbed her hand so we could move towards the theatre which I really wanted her to see before we left. We began to walk in and around the crowd when someone tapped me on the shoulder and asked me if I wanted 2 tickets. I had no idea what he meant so I just asked "how much?" and he said they were free. "You can have them as long as your gonna use them right now" he told us.
Are you gonna come?
Suddenly I looked down and realized it was 2 tickets to the screening! "Hell yeah!" I replied.
Next thing you know, were following them alongside the red carpet towards Grauman's Chinese Theatre to watch the Hollywood screening of the Green Lantern. I was amazed. I gave him a sincere thanks, grabbed some free popcorn, and headed into the beautiful Hollywood theatre. A red curtain kept the screen covered while security sat Ryan Renolds and the rest of the cast about 20 seats behind us. Once the cast was seated, the curtains unveiled the screen and the show began.
Such a spontaneous and unique event. An absolutely amazing experience for Karla and myself in Hollywood. Had we chose to eat at the pizza restaurant (which we almost did), we would have missed the opportunity by a few minutes. Had we decided to find parking elsewhere, we would have missed it. Had we not walked past the couple with the tickets at that precise moment, someone else likely would have grabbed them.
The timing was perfect. The moment was perfect. The movie was okay (haha). The stars had lined up and the cosmos were aligned perfectly with our souls. 100% fate.
Nah, it was just a lucky coincidence. But none the less, it was awesome.