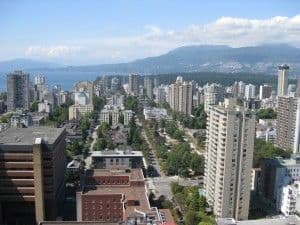 I love travel as I'm sure everyone knows already. I also love doing it as cheap as I can and finding sweet deals. The same goes for hotels. Everyone likes saving money when they can and I love saving for travel and Priceline can definitely help.
I heard about Priceline 2-3 years ago because they were giving people the option to bid for airfare. Similar to an auction in some ways, you would bid the amount you want to pay for a particular flight and if the airline thought it was fair, you would win. This is only offered in the U.S. though so I didn't have much reason to return.
Then I found out about bidding for hotels on Priceline which was also available in Canada. I used it on my trip to Vancouver 3 months ago and it worked fantastically!
In my experience, it works best for 4-star hotels since those seem to have the biggest discount. I was able to book the Sheraton hotel in downtown Vancouver on the 39th floor with a balcony overlooking the city and the harbour for just $100 including tax. For the same price the following week, I was also able to book myself into the Marriott and the Hyatt hotel, which are also located downtown and perfect for exploring Vancouver on the weekend. This was 50-70% off their posted rates and much cheaper than Expedia. If we're ever visiting Whistler in the summer, I'll definitely be trying to score a half-price hotel.
All you have to do is visit Priceline.com and scroll down to the "Name Your Own Price" option for hotels (or airfare and rental cars) and pick your location. Keep in mind though that you only get 1 bid per 24 hours unless you choose another star rating or location. So if your heart is set on a 4-star hotel downtown and your bid is not accepted, you will need to wait 24 hours before bidding again. $80-100 seems to work quite often but you can also visit BetterBidding to get the news on the latest bids people have had accepted.
You can also choose different areas of the city you are visiting. The two areas I wanted to be in most while in Vancouver were downtown and the entertainment district so that I was walking distance to most things. You could always try bidding in one area for a 4-star hotel and if the bid doesn't work, pick another area and raise the price.
Make sure you check the going rates on Expedia to come up with your ballpark figure but bid less than what Expedia offers! Hotels use this service to try and minimize their vacancy rate so it might not work as well during a busy season or an event like the Olympics or the Calgary Stampede.
The best chance of getting a great deal is usually far in advance or as close to the date as possible. Hotels want to book a certain number of rooms in advance rather than take the chance of having them empty so booking a couple of months or more in advance will usually land you a deal. On the same note, If you're booking the hotel close to the date you are staying and they know for a fact that they will have rooms empty, then your also likely to get a great deal. I booked the Marriott in Vancouver the night before but I made a bid of $100 so that I had a good chance. I didn't want to wait 24 hours again:)
______
Do these types of travel hacks appeal to you? Let me know and I will continue to write more.