2015 has been a great year for travel. I've already stepped foot on three continents, witnessed a permanent lava lake erupt right in front of me, visited Japan during cherry blossom season, and went completely around the world in business class.
It was my first time at the front of the plane and I picked a good time to do it. After all, my wife and I were flying from Calgary, Alberta to Kilimanjaro, Tanzania, which took us through England and Turkey. From Tanzania, we flew to Ethiopia for a month and then to Japan for three weeks before coming back to Calgary over the Pacific Ocean. It was a lot of long flights and many time zones to circle the world but having full lie-down beds on the flights made it much more bearable.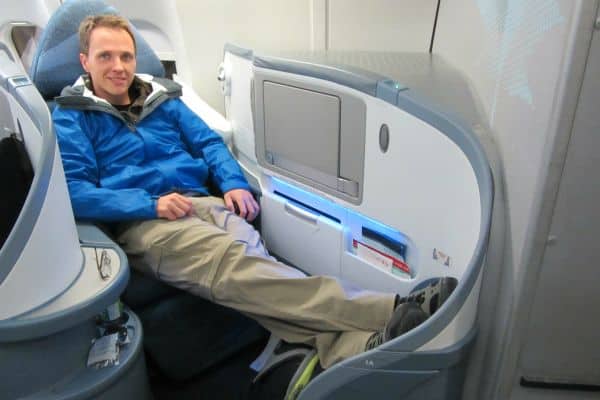 I certainly can't afford business class tickets around the world. It's a tough itinerary to price out but just flying to Tanzania and back in business class came to $15,000 each when I looked it up on multiple search engines. It's safe to say that it would have cost us at least $35,000 USD to make this trip happen, had we paid for the tickets.
Instead, the trip cost just $750 CAD each. That's because we used frequent flyer miles to "pay" for the rest. Since becoming a travel hacker a few years ago, I've managed to earn over 1 million miles through credit cards, everyday spending, and various promotions. However, even though earning miles is crucial, redeeming them for high-value rewards is much more important in the world of travel hacking.
A conservative estimate for valuing miles is 1 cent per mile. This would mean that 25,000 points (enough for a round-trip flight anywhere in Canada or the continental U.S.) would be conservatively valued at $250. These flights are usually more so the value here would be closer to 2 cents per mile, which is not too bad. If you get more creative like we did when we flew to South America for $27, you can easily get 4-6 cents per mile, which is a GREAT use of those hard-earned miles.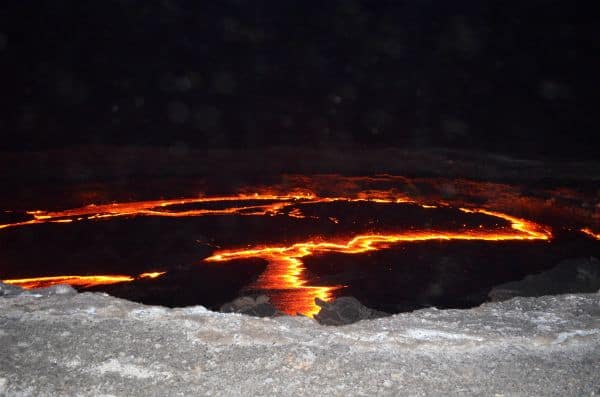 However, this trip blew that out of the water, even if I very conservatively value this trip at $30,000 USD ($37,000 CAD). The trip cost 150,000 Aeroplan miles each for a total of 300,000. At 1 cent per mile, this amount of points would have only covered a $3000 trip. Instead, I used them to cover a $37,000 trip for a value of 17 cents per mile. 17 cents is an INCREDIBLE value for points, which is why we decided to dish out 300,000 miles for a business class flight. I could have made the taxes considerably cheaper by flying on different airlines (but would have lost the fancy lie-down beds) and by choosing different destinations (Japan has very high airport fees) but who really cares? For $750 each, we flew business class to Tanzania, Ethiopia, and Japan. We got to experience pod-style seating on Air Canada as we crossed the Atlantic and we also experienced some incredible lounges such as Istanbul's Turkish Airlines lounge, which trumped any other lounge I've ever seen.
We had free checked bags, priority check-in, delicious gourmet food, hot towels, champagne, and most importantly, comfortable seats for our super-long flights.
But who cares about us, you want to know how you can do it, right?
In the simplest terms, you need to earn enough frequent flyer miles and then redeem them creatively for maximum value. Earning miles by flying is the slowest and most expensive way to do this but earning them from the ground is much cheaper, much better, and much quicker.
Here are Five Tips to move you closer to your dream trip.
1. Make a Goal
Like most things in life, you'll be more focused if you create a goal for where you want to go. Think about a dream trip you'd like to make. Imagine it. What are you doing there? Write it down. Find a picture of that place and include it next to where you write it down. Now, determine the rewards system that will get you there. Maybe it's Aeroplan. Maybe it's Delta. Whatever it is, write down how many points you need and then focus your attention on that goal.
2. Apply for a Travel Credit Card
Although a credit card is not needed to become a travel hacker, it certainly speeds up the process. When looking for a credit card, look for waived annual fees, high mile bonuses, travel perks, and a quality rewards program. There are basically two types of cards. Some cards are linked directly to an airline rewards program. If you want to earn miles in that program, this can be a good choice. Other cards earn you miles (or points) with the credit card issuers awards program. When this happens, you need to make sure those points are transferrable. For example, American Express has a great rewards program, which allows you to transfer the points to a number of different airlines and hotels.
If you're from Canada, I highly recommend getting started with the American Express Personal Gold Rewards card, which comes with 25,000 points after spending just $500 in the first three months. You can apply for the card here.
If you're from the U.S, try the Amex Premier Rewards Gold Card, which comes with 25,000 points and a yearly $100 US airline fee statement credit. This card also has no foreign transaction fees.
3. Maximize your everyday spending
Once you have a credit card that earns travel miles, start using it for all your purchases. However, you also need to make sure you can pay it off in full each month. If you start paying interest, your miles become devalued. Use your card for typical needs such as groceries and gas. I use it for everything.
4. Double Dip
If you have a credit card that earns miles, try to pair it up with a rewards card as well such as Aeroplan. When shopping at an affiliated store, you can use both the credit card and the rewards card for double the points!
5. Redeem Right
Once you have the miles, it's important to not let them expire or to waste them on short-haul flights. You'll always get better value from your miles by taking long-haul trips, getting creative with multiple destinations, or by sitting in business class. Before booking a flight, check the cost first. If there is a great seat sale, you might want to consider paying for the flight and saving the miles for a later, more expensive flight.
Are you interested in turning your Dream Trip into a Reality?
Zero to Dream Trip is a four-week course designed to make your dream trip happen. Each week, we'll focus on a different topic with a series of short videos to dive into. We'll then jump on a live Q & A call where everyone can ask me questions and have them answered right away. You'll tell me and the group where you plan on going and I'll teach you everything you need to know to make it happen with travel hacking.
The course normally costs $347 (a small price for making your dream trip happen) but if you sign up before the end of July, you'll get 50% off! Each four-week course is limited to just 30 people!
***
Want more travel? Check out these articles below: