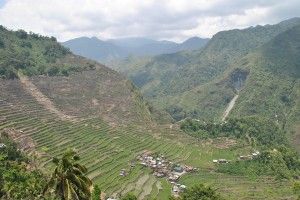 Roosters crowing, birds chirping, and little pigs rushing about to get first dibs on their pot of grub were all part of the daily ritual upon waking up to a beautiful morning in Batad.
Batad is a small village situated in the northern cordillera region of the Philippines as part of the UNESCO World Heritage listed Ifugao rice terraces. To get here, one must take a 10-hour bus north from Manila, a 1-hour jeepney from Banaue to the saddle, and then a 1-hour hike before reaching the beautiful little village.
The travel grind of buses, jeeps, planes, ferries, and tricycles were getting to me at this point but Batad provided the perfect relax for my tired soul. We stayed 3 nights in a charming guesthouse called Rita's. By day, we had jaw-dropping views of the Batad rice terraces and the mystical mountains that surrounded them. By night, we had soothing jungle sounds as well as multiple insects paying a visit as we sat around Rita's deck. Baby scorpions, praying mantas, humungous butterflies, and other strange creatures would land all around us, attracted by our headlamps glowing into the darkness. In our bedroom, we were lucky to have a firefly squeeze in and circle the room like Peter Pan's Tinkerbell, magically creating a LED effect across the ceiling.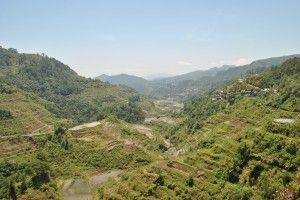 Apart from the various insects, the village also provided an amazing 3-hour hike. The popular trail brings you across the rice terraces and up to a viewpoint for a completely different look at the masterpiece below. It then links itself to another trail that brings you down to an absolutely gorgeous waterfall called Tappiya. At roughly 43m in height, it's dazzling to look at and bone-chilling to enter. Just don't go to close to the fall as it has claimed victims in the past. Besides meeting good people, going on marvelous treks, and taking in the great views with coffee in hand, I simply fell in love with the charm of the village guesthouse atmosphere.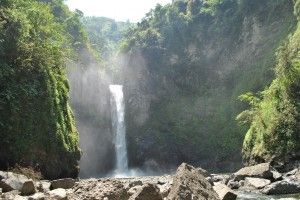 Rather than waking to loud motorcycles and horns, I woke to roosters, dogs, and singing birds. I would get up, look off the deck and see hens walking by with chicks in tow, or dogs looking for mates to play with. I would walk over to see Rita's traditional hut and see pigs and piglets running around waiting for their morning feed. Little Filipino kids would say hello and run around playing games with their siblings. It all added to the charm of the village and made us feel welcome.
The 3 days were magical and provided the much needed mental relaxation I needed after 3 weeks of constant movement. And although it was hard to say bye to this mountain paradise, something tells me I just might be back.