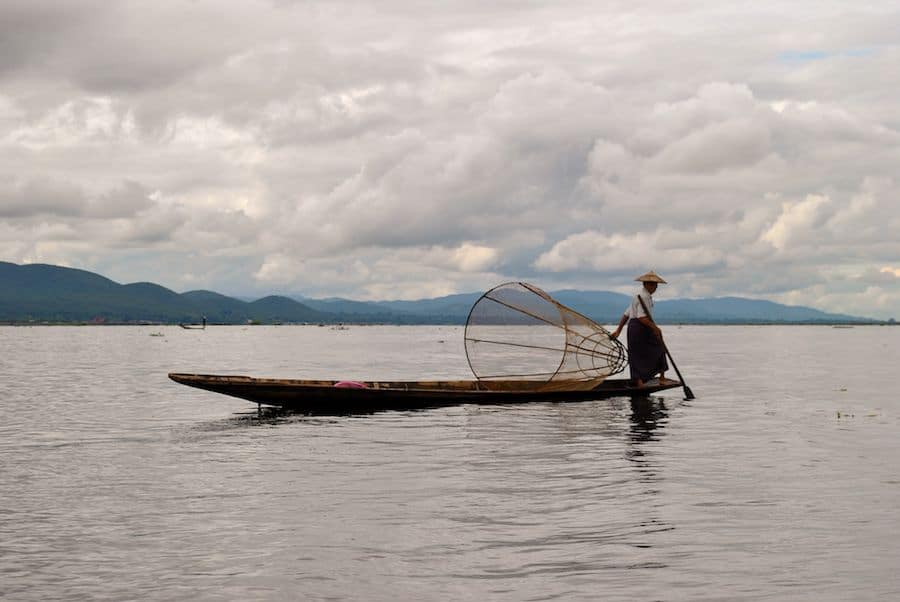 After a beautiful hike to Inle Lake, we jumped onto a bus to Bago. There couldn't have been a bigger contrast. Our 3-day hike to Inle Lake was quite peaceful, skirting by small villages and tea plantations as well as spending nights in a small local home and monastery. Once at Inle Lake, we cruised across the smooth glass-like water, stopping by craft shops and watching fisherman cast their nets into the water. We stayed a couple of nights in the small town of Nyaung Shwe as well, relaxing for much of the time. Bago, on the other hand, was one of the noisiest cities I've ever experienced. Our guesthouse, which was right off the main drag, was the perfect place to fully experience the smorgasbord of endless vehicles, motorbikes, and people walking along the dusty street, amplified by their persistence of playing the horn. Like in India, locals were laying into the horn as if their lives depended on it. Standing on the balcony and looking down upon the chaos, we felt like we were in a movie. You know, that bustling scene that transports you to a distant land that you never knew existed. Gone were the scenic landscapes of Inle Lake. It was back to city life. Sort of. I mean, it's not New York.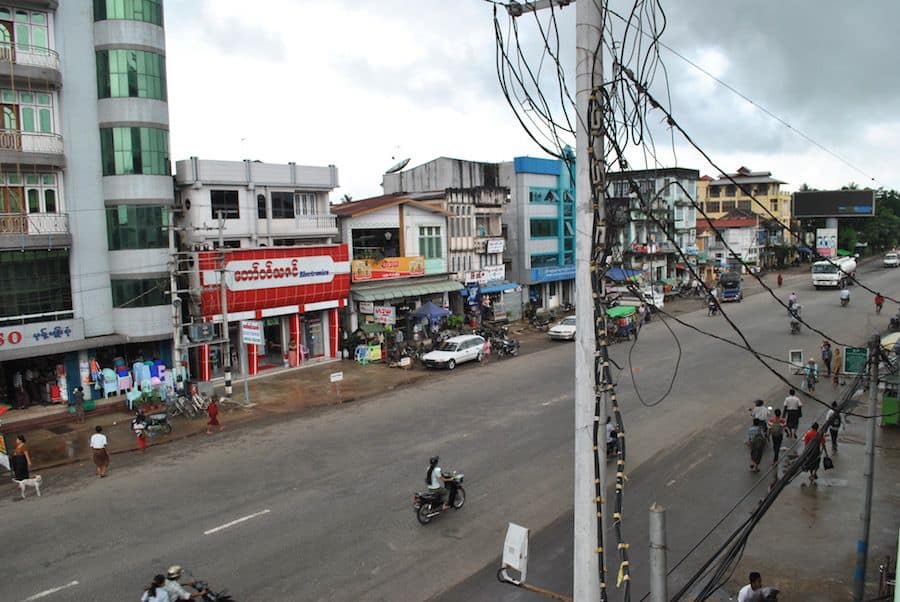 Bago is basically the nearest "major city" to a place called Golden Rock. Golden Rock (or Kyaiktiyo Pagoda as it's locally known) is the third most important Buddhist pilgrimage site in Myanmar. It's a small pagoda built on top of a granite boulder painted gold by devotees. Locals believe the rock itself is perched on a strand of Buddha's hair. The rock seems to defy gravity, as it appears to be on the verge of rolling down the hill. The pagoda sits at the top of Mt. Kyaiktiyo, which is 1,100 metres (3,600 ft) above mean sea level. We figured we should go check it out since we were in the area. Plus, we had a full day and a half (two nights)  ahead of us so the two-hour journey to get there didn't seem so bad.
Or so I thought…
After a half-decent sleep next to the world's noisiest street, we woke and looked for transportation to Golden Rock. Our first offer was for a car taxi, which just seemed too expensive at the time. Instead, we opted for two cheaper motorcycle taxis. I can't remember the exact price but it was about $10 USD each for the guys to spend a whole day driving and waiting for us on stand-by. An entire day. Not bad right? Since the drivers only had one helmet each, they gave us theirs and rode helmetless themselves. At first, it felt extra-adventurous to sit on the back of a motorcycle in a mystical place like Myanmar. Eventually, that excitement turned into fear as we hit speeds of maybe 80-100 km/h (estimating) on a small motorbike all the while dodging herds of cows meandering across the highway. I had a random thought of how trying to save a few bucks on transportation could get us killed. How there aren't really any hospitals in Myanmar and it's not a place you want to get injured. How we'd feel (and look) if we suddenly hit a cow and tumbled across the pavement. How we… okay, I'll stop. "Think positive Mateo," I told myself (that's what my wife calls me. It's Spanish for Matthew).
Since it was getting close to noon and we hadn't eaten yet, the drivers stopped at a roadside restaurant. It's a good thing we did because it ended up being our last meal of the day, but I'll get into that later. The adventure was really just starting. We just didn't know it yet. After about two hours of hair-raising motorbike-style Need for Speed, we finally reached our destination. Sort of…
We were at the bottom of Mt. Kyaiktiyo. To get up the mountain, we had to sit in the back of a dump truck. I think it was a dump truck. Basically, an industrial-sized truck with a truck-bed fitted with wooden benches, enabling the truck to take 30-40 people uncomfortably up the hill. Before getting on, our taxi drivers told us to try and be down by 4:30 PM so that we could make it back to Bago before darkness. We agreed. So here we are, my wife and I, crammed into the back of a most-likely-not-well-maintained truck, going up a mountain for what felt like a 90-degree angle, praying that the brakes were good. This second hair-raising journey took about 30 minutes. Once we "arrived," we still had a 30-to-45-minute hike up a slippery paved road that was too steep and narrow for the truck.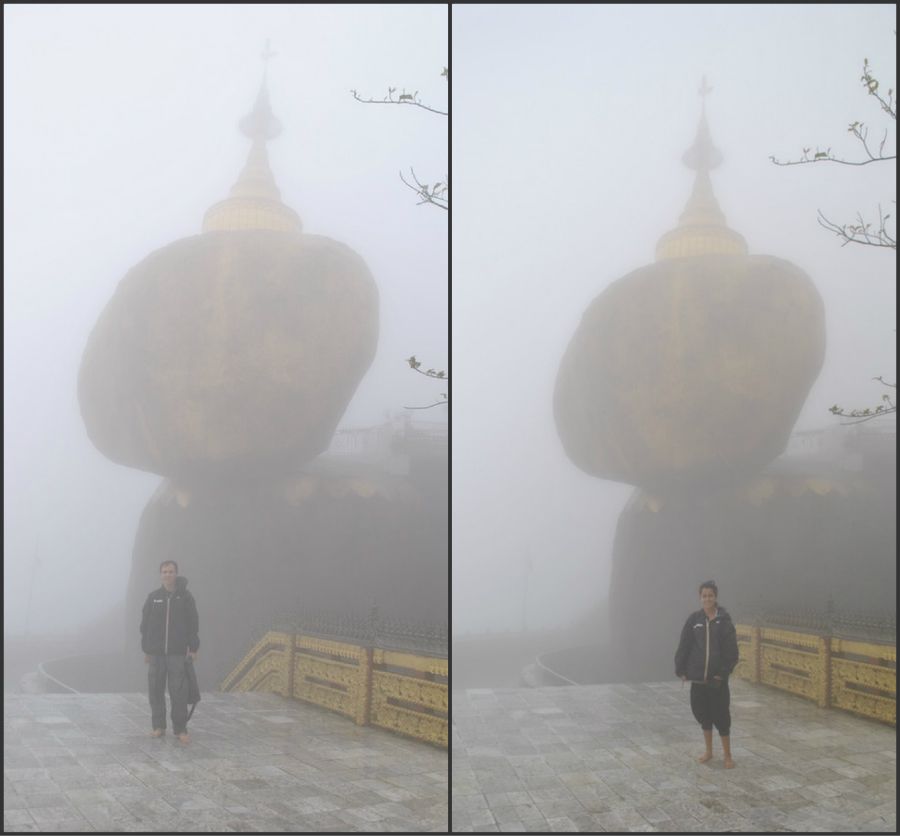 Eventually, we did make it, albeit soaking wet. And by soaking wet, I mean it as if we had jumped into a lake. The water had even gone through our rain jackets. But at least we made it. A little cold and very wet, sure, but we made it. And then came another unforeseen situation. The strong rain, combined with humid weather, caused an impenetrably foggy mist. We could barely see Golden Rock, nor the stupendous views of the surrounding valley. Had we been knocked out and awakened where we were standing, we wouldn't even know that we were on a mountain.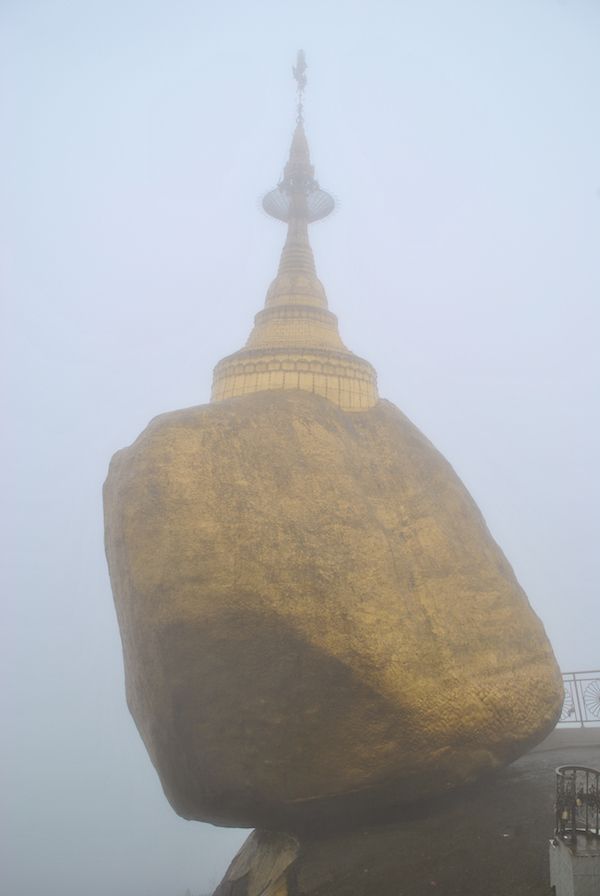 Normally, a situation like this would be very disappointing but I kept positive by looking on the bright side. I was in Myanmar after all. In fact, the weather sort of added to the mysterious spiritual vibe of the place. Even though we had to walk barefoot on the temples ceramic floor despite being used as a daily toilet by pigeons and monkeys, I continued to brush it all off. I mean, after three weeks in the country, we were used to this sort of thing. Plus, eventually, we'd be able to shower.
After spending an hour or so at the top, it was time to head back down. After all, the rain was showing no sign of stopping and we remembered our taxi drivers advice to be down by 4 PM. This is when the slipperiness of the road down became really evident. Karla fell. For a moment I thought she had broken her arm. She lay there injured, letting out a soft cry as blood dripped down from her elbow. She hit the pavement quite hard but her arm wasn't broken. Thankfully. This would be a bad place to get hurt. We continued walking down the mountain, very cautiously, as I held her arm. The rain continued to pelt us.
Once at the restaurant area, we found the last truck that was making its descent. It was already getting quite late and, unfortunately, the truck never moves until full. We were now very hungry but we also didn't want to miss our last mode of transportation to the bottom. What if we ordered a meal and the truck became full? There weren't a lot of English spoken so explaining this was too difficult. Instead, we joined two other travellers in the front cabin of the truck, which was much better than sitting in the back with no roof to stop us from getting wet.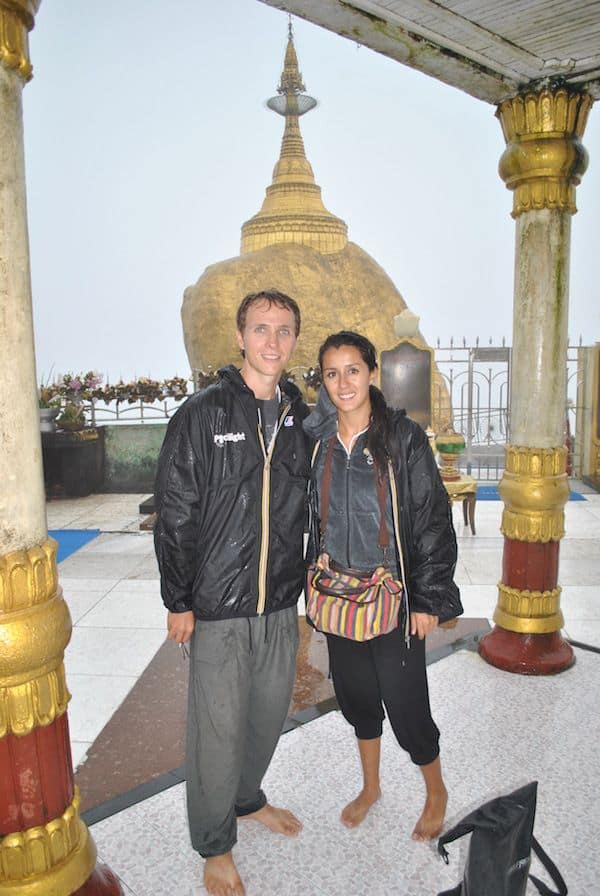 We munched on some cheap, tasteless potato chips, hoping that we'd be leaving soon. We waited and waited and waited. Hungry, we still didn't want to take the chance of finding a place to eat and then missing our place on the truck. Plus, we were finally out of the rain. Eventually, almost two hours had passed and our desperation grew further. It was now getting late and we knew we'd have to drive back to Bago in the rain and in the dark on the back of a motorbike. Finally, the truck did leave. Again, we prayed for the brakes to be in good working order as we drove down the steep, slippery and winding road, carrying 40 soaking wet humans in the back.
Finally, we reached the bottom. The real bottom! Our drivers were as happy to see us as we were to see them. We told them why we were late and they recommended that we stay at a guesthouse in the area and that they would stay with a friend. It's incredible how caring the Burmese people are. They didn't even want extra money, just a couple of dollars for a meal. In hindsight, we should have taken their advice but all of our dry clothes were back in Bago so we made the choice to leave. We jumped onto the bikes and off we went.
What an incredibly dumb decision.
After 20-30 minutes of blind-driving through monsoon-style rain, we had to stop. First, it was dark. Second, it was raining so hard that we couldn't see more than a few metres in front of us. Third, the rain, combined with our speed, was quite painful on the face. and last, we were still very hungry. We ate our last meal more than 10-hours prior. As soon as the drivers found a roadside restaurant, they pulled over. Once again, the generosity and friendliness of the Burmese people shined through. We must have looked like a train-wreck as we walked into the restaurant. Not only did we look like we had just climbed out of a lake, but my pants had literally ripped from the crotch right down to my shoe. I was almost entirely exposed. As we sat down, excited for a meal, the waitress/owner of the restaurant brought Karla to the back and actually gave her some clothes to wear. I wasn't so lucky but Karla felt a breath of new life as she put on a fresh pair of dry clothes. Again, we were not asked for anything in return. Just another good-hearted gesture from the locals. Meanwhile, our drivers were still out braving the storm trying to wave down passing vehicles to give us a ride back to Bago. It was just too dangerous on a bike and they didn't want to see us get hurt. While they did that, we ate what tasted like the best meal of our lives. I still laugh at what the locals must have been thinking – two foreigners, one with no pants, sitting in a random restaurant, drenched, late at night. I'm sure it looked like we had quite the adventure.
After an hour or so, our drivers came back with good news. They found a truck going back to Bago and the driver was willing to bring us back for a few bucks. We jumped on the opportunity, said many thank you's to our fearless drivers, and jumped into the cabin of the little transport truck. Our new driver didn't speak any English so it was a quiet ride back to Bago but man did it feel nice to be safe and dry. It was also a great moment to reminisce about the day and what a disaster it really was but also how the experience exposed us to the kind spirit of the Burmese people.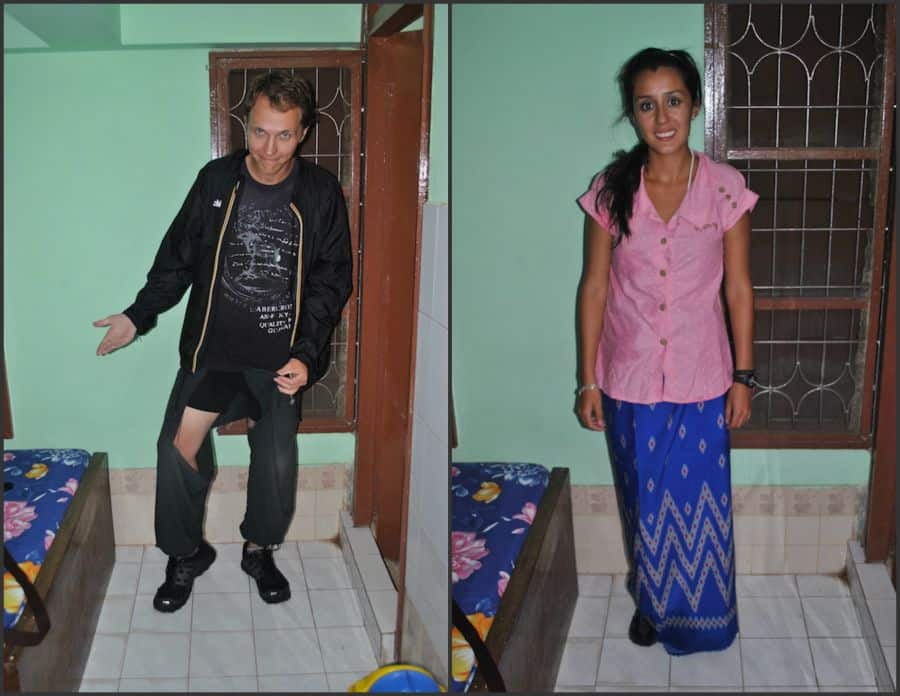 Around midnight, we pulled over on the highway next to our guesthouse. What a relief to know we were back to our hard bed. We said bye to our driver and walked up the stairs to our cheap little humble room. Laughing about the day we just had, we took out our camera to take pictures of my ridiculous attire and Karla's new threads. We then got undressed, excited to finally take a shower, only to realize that our guesthouse had no hot water.
Here we go again.